First Team News
1
Super Sergio is sensational
Aguero
Sergio Aguero has done it again.
Tuesday night's hat-trick against Bayern Munich that turned the game around and took the blue touch paper to City's Champions League campaign has had journalists, pundits, fans and players digging around for superlatives that don't yet feel stale when describing his exhilarating displays.
The Argentine superstar has now reached 92 goals in 139 competitive appearances while wearing sky blue, and he's homing in on his milestone century - it just remains to be seen how he chooses to strike, and who will be his victim of choice.
Speaking on Tuesday night, Vincent Kompany declared Sergio City's very own "Special One".
Said the skipper: "If you want to succeed at anything, you need a special player in a special form, otherwise you just don't win anything. He's our special player and when he's in that form he makes things achievable that otherwise wouldn't be."
Manuel Pellegrini reiterated his belief that Sergio is one of the best in the world at his post-match press conference, and he isn't alone, with writers and broadcasters scrambling to elevate the striker to the stage occupied by the world's greatest players - something City fans knew was true long ago.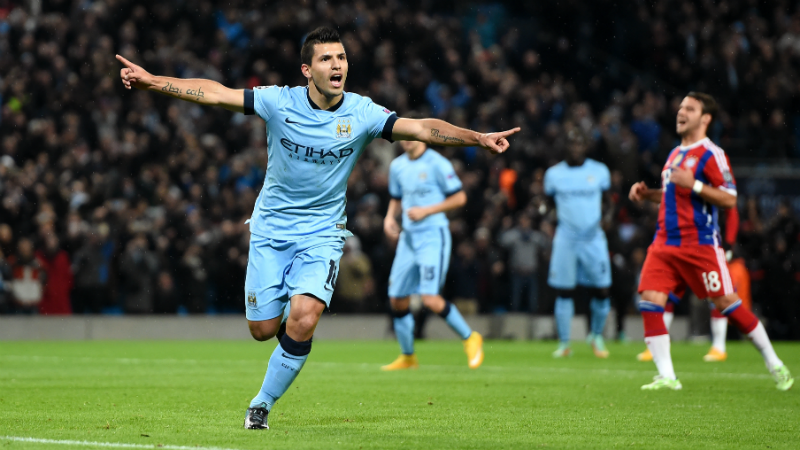 Sky Sports' Glenn Hoddle purred: If you say Lionel Messi and Cristiano Ronaldo are the best players in the world, then he – alongside Costa is probably the best finisher.
"As goal threats, someone you can have in your team and know they'd score goals.
"He's as cool as you like with penalties. His second goal typifies him for me; there's a long way to go, there's a lot of strikers that wouldn't score from that position. He's got the pace and the calmness to just tuck it away against a world-class goalkeeper.
"It's a fabulous performance."
The records keep tumbling for Aguero with speed and alacrity. Last term he reached 50 goals for the club and this season he has already surpassed Carlos Tevez as City's all-time leading Premier League scorer, but he is far from finished with his peak years arguably still to come.
To celebrate the unrelenting genius of this remarkable man, we're once again sharing his first 50 strikes from the CityTV archives.
Sit back, relax and enjoy as Sergio shows the world why he belongs on football's upper echelons, and why his place in City supporters' hearts and club history books was secured a long time since....
Part one: From Swansea debut to "the 6-1"
Part two: From Newcastle to a Europa League strike
Part three: Happy 21st to "that" goal
Part four: Off and running in 12/13 to Stoke penalty
Part five: "Impossible" goal v Liverpool to number 50