Men's Team
1
Pellegrini: There is plenty left to fight for
Manager shouting
City's dreams of a clean sweep of the trophies this season are over after their 2-1 FA Cup quarter-final defeat to Wigan Athletic.
A first-half Jordi Gomez penalty and a strike from James Perch two minutes into the second period settled it.
Samir Nasri's goal gave City hope with 22 minutes left but, despite an avalanche of pressure, the Blues couldn't force the equaliser.
Manuel Pellegrini admitted he was disappointed with his side's pace and tempo in the first 46 minutes but believes that this defeat can spur his side on for a positive result in Barcelona and in their chasing down of Chelsea at the Barclays Premier League summit.
"I think that we had two games in the same one – one from the first minute until the 46th when they scored the second goal and then we reacted too late," Manuel rued.
"We gave Wigan 45 minutes when we were too slow and they took advantage.

...Manuel Pellegrini...
"It was a special week after winning the cup and all of international games but all of us have the same share of responsibility for this result.
"We finished one trophy and we won it, now we have to continue playing Champions League and Premier League – we have a lot to fight for.
"We must try to win in Barcelona – then we must try to reach the top of the table with our three games in hand."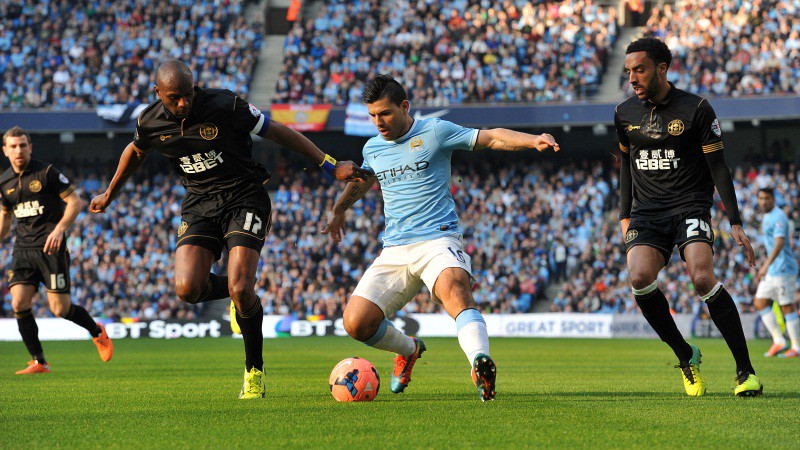 The Chilean made six changes to the side which started the Capital One Cup final against Sunderland last Sunday.
However, the 60-year old was adamant that this was the same rotation he would make for any cup competition, rather than changes made with half an eye on the Champions League last 16 second leg coming up in midweek.
"I didn't leave Kompany or Kolarov or Fernandinho on the bench because of Barcelona," he insisted.
"We make rotation in the cups, plus the players we left out played 90 minutes for their international sides on Wednesday, so it was important for them to have a rest.
"I think that it was the worst half we've had at this year because we didn't have the pace to play against a side in a good moment.

...Manuel Pellegrini...
"They've won their last four or five games in a row – we knew it would be difficult but maybe we thought it wouldn't be so difficult."
Finally, Manuel admitted that City were in a difficult position going into that crucial game at the Camp Nou on Wednesday night, but didn't rule out the possibility of his side pulling off a remarkable comeback.
He added: "It's a game we are losing 2-0 – it's a difficult game and we must show a reaction from tomorrow morning onwards."
Pellegrini's Wigan counterpart Uwe Rosler enjoyed a special return to the club where he was idolised in his playing days.
The Latics boss was delighted with his team's performance to beat "one of the best clubs in the world".
"I'm very happy for my players, for my staff and for Ben Watson because he was a big incentive today," Rosler declared.
"Last season was an unbelievable achievement to put Wigan on the football map but to follow that up this year, to be in the semi-final is equally strong from my players.
"I think teams show City, deservedly, a lot of respect. I feel if we sat back we had no chance.
I felt our best chance was to attack and keep the ball.

...Uwe Rosler...
"At some point you need luck when you want to win here but i feel that justice has been done – for Nasri's goal, I think Lescott was clearly offside and interfering with our goalkeeper.
"I'm delighted with, not just the win, but the way we won."
Rosler also revealed that he was honoured with the reaction he got from the City supporters inside the Etihad Stadium.
"This club has been very respectful for me - the reception I got was incredible," Uwe smiled.
"I also think I was respectful in return - I didn't celebrate when we won, I will never lose that connection with this club."