First Team News
1
Pellegrini: Aguero and Nastasic to miss Arsenal clash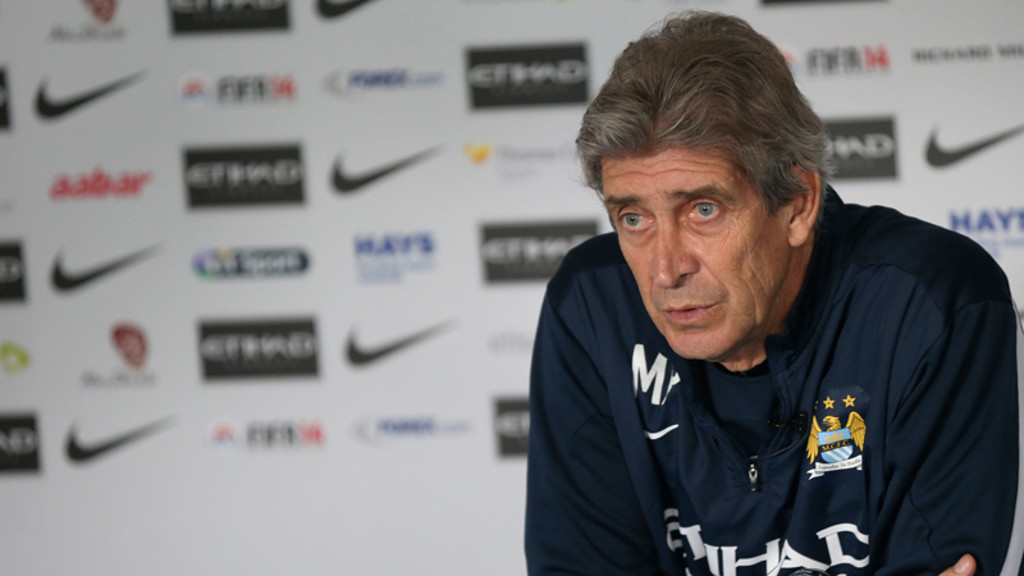 arsenal v city press conference
Manuel Pellegrini confirmed that Sergio Aguero and Matija Nastasic will be unavailable for the Arsenal game, but David Silva is fit to travel.
Aguero has not yet recovered from a hamstring problem sustained against Barcelona, while the Blues will be missing three other players for the trip to London.
"The team is exactly the same as last week," Pellegrini revealed. "Aguero and Nastasic are out. Silva is ok, he is in the squad list.
"Aguero needs one more week, we will see next week how he improves from his injury.
"Jack Rodwell is in the squad, but Micah Richards and Dedryck Boyata are working here and are not available."
City travel to Arsenal days after recording a comprehensive 3-0 victory over Manchester United at Old Trafford, and the boss insists that it is time to focus on the next match in the Blues' bid to regain the title.
He said: "The week has started very well and we hope to finish in the same way. I think it is always very important for the club, the players and the fans to win the derby, now we must try to win the next match to continue fighting for the title."
While City have taken six points in their last two matches, scoring eight goals and conceding none, the Gunners come into the game having lost to Chelsea at the weekend and conceding a late equaliser to Swansea in midweek.
However, Pellegrini believes that the Gunners are still fighting to be crowned Premier League Champions and City will have to put on a top display to secure three points.
"This is a big game because it is against a team fighting for the title also," the Chilean told the press. "It's a match of six points, but not the match that will decide the title.
"Arsenal have not had a good week but they are a still a very good team. They are playing at home and have very good players and I am sure we will need to play a very good game if we want to win."
City are three points off the top of the table but have two games in hand, and with just nine games remaining for the Blues Pellegrini believes there are still four teams who could win the league.
"For all the big teams there is always pressure to win titles," Pellegrini declared. "It does not matter if you have won the title before, the ambition should always be to win as much as you can every year for every big team.
"I think the four teams have the same chance to win the title. Maybe Chelsea have to play in the Champions League at this point in the season but maybe they are at the top of the table because they did not play as much in the other cups.
"Arsenal didn't have the results they needed to in the last two matches but all the teams will drop points between now and the end of the season so I continue to think that Arsenal have a good chance of winning the title."