Men's Team
1
Pellegrini satisfied with draw at the Emirates
Manuel
A second Premier League title in three years is still in City's hands after a 1-1 draw at the Emirates Stadium.
City looked to be on their way to a second impressive away win inside five days when David Silva put his side into a 17th minute lead but Mathieu Flamini levelled after 53 minutes to secure Arsenal a share of the spoils.
Manuel Pellegrini admitted that he was disappointed not to win the game, considering how many chances City created, but revealed his contentment with four points from two difficult away games.
"It's a good point because we played two games away this week against United and Arsenal," Pellegrini smiled.
"They are two big teams, so it's not bad but I also feel we could have been more lucky today.
"We played better in the first half than the second and had at least four or five clear chances to cross but we didn't finish well.
"But football is like that and I think our team deserved to win but we just drew.
"When it was 1-1 they grew and played better because of the goal and because they're a good team here at home.
"Still, I thought we controlled the last 15 minutes of the game and we had some clear chances but we didn't score."
On a day that saw Chelsea surprisingly slip up at Crystal Palace, City had the opportunity to go ahead of Jose Mourinho's men with two games in hand.
Although his side missed the chance to go back to the table summit, Pellegrini is delighted that the Blues still have destiny in their own hands.
That equation is simple: win the remaining eight games and City are champions.
"The most important thing is that we depend on ourselves until the end of the season," the Chilean declared.
"I see it exactly the way I saw it at the beginning of the season – I said it would be a close league with three or four teams fighting for the title.
"It was not a chance to go top because we could have won today and then Liverpool could have won tomorrow and gone top.
"They were two points ahead of us going into the game, now just one.
"Arsenal still have a chance to fight for the title – we'll see which team does things better from now until the end."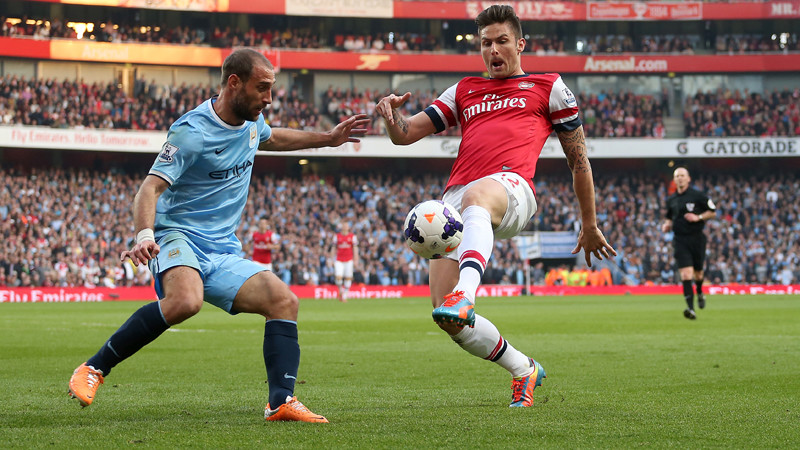 Gunners boss Arsene Wenger felt the draw was a fair result and praised both teams for playing parts in an attractive spectacle.
"We were a bit nervy at the start, insecure in our attitude by our last two results," Wenger asserted.
"But when even we when we were 1-0 down you could see the team was ready for a fight and we controlled the second half, we controlled the first 20 minutes and overall in the first half maybe they had another chance, in the second half we had a second chance.
"We could have won it in the second half but overall it was a game of quality between two good teams and the game was played with a great spirit on both sides."