Men's Team
1
2013/14 Etihad Player of the Year nominees: Long list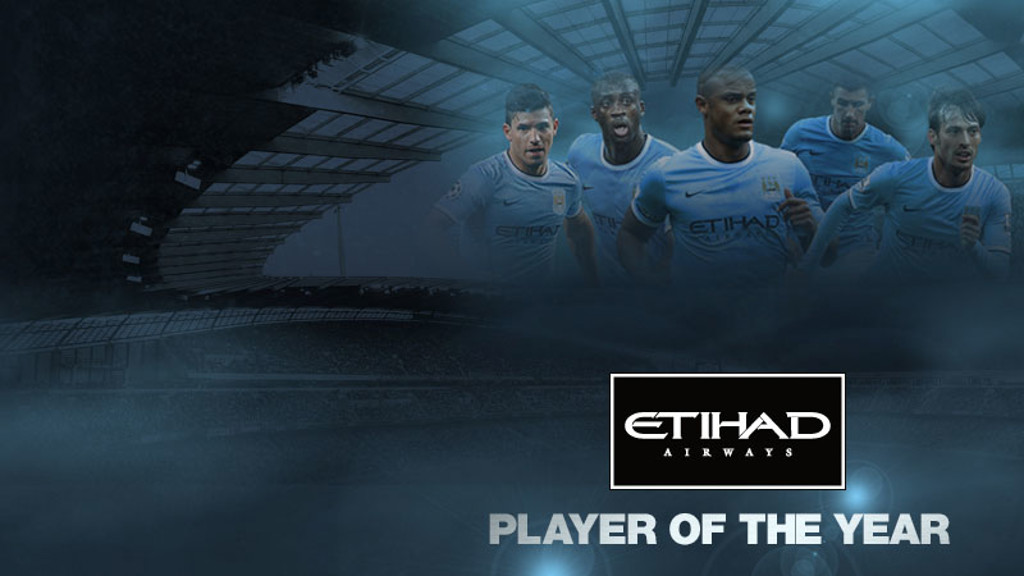 POTY FB
Below are the 18 players who have made at least 20 or more appearances this season – the criteria needed to qualify on the MCFC Etihad Player of the Year in association with MCFC Supporters Club (1949) nominees long list.
Voting has now closed and the winning player announced at City Live 2014 in August.
Here are the 18 candidates:
Joe Hart: 39 games, 0 goals, 0 assists
Joe ended the season strongly having re-established himself as City's No.1 midway through the campaign. His save away to Everton from Steven Naismith was as crucial as any he made all season.
Vincent Kompany: 36 (1) games 5 goals, 1 assist
The skipper was at his inspirational best when the club needed him the most and his leadership skills ensured the Blues stayed calm at the most important moments of the campaign.
Pablo Zabaleta: 43 (5) games 1 goal, 7 assists
Last season's MCFC Player of the Year is a strong contender again after yet another season of consistently solid performances. Provided a number of assists as well as vital tackles and was as committed and brave as ever.
James Milner: 22 (22) games 2 goals, 10 assists
James was rarely out of the team during the 2013/14 campaign and his contribution, whether from the start or from the bench, was often pivotal for the Blues and he was particularly effective in helping turn games around.
Samir Nasri: 36 (9) games 11 goals, 11 assists
A wonderful season for the talented French play-maker. A mystery to many City fans how such an effective player could be ignored for World Cup duty, Blues' fans are well aware of Samir's contribution last season which he also claimed many assists.
Alvaro Negredo: 29 (20) games 23 goals, 6 assists
Up to February, Alvaro Negredo was probably the favourite to land this award. By that time he'd scored 23 goals and was on target for many more until a shoulder injury interrupted his campaign and form. Still a strong contender.
Aleksandar Kolarov: 31 (13) games 4 goals, 9 assists
Aleks forced his way back into the first-team after a stop-start year the season before and his contribution has been excellent. A consistent campaign and his contribution as an attacking force has made him a vital member of Manuel Pellegrini's side.
Edin Dzeko: 36 (13) games 26 goals, 8 assists
Edin had to wait for his chance to shine this season as he watched Negredo and Sergio Aguero scoring for fun in the early months during which he still chipped in with a number of goals. After Christmas, he became the Blues' main source of goals with 14 goals in the last four months.
Javi Garcia: 26 (15) games 0 goals, 0 assists
Javi was the holding midfielder Pellegrini turned to if Fernandinho or Yaya Toure were absent for any reason and with 40+ games, his steadying influence and ability to keep things simple proved crucial in the title run-in.
Sergio Aguero: 30 (4) games 28 goals, 9 assists
An astonishing strike rate for Sergio, one can only imagine how many goals he would have scored had he not had an injury-ravaged season. Despite playing only 34 times from a possible 57 games, he still finished top scorer with 28 goals.
Jesus Navas: 29 (17) games 6 goals, 13 assists
An impressive first season for the pacey winger who provided a number of assists as well as six goals. His speed and crossing was a crucial part of the Blues' counter-attacking and there is much more to come from Jesus.
David Silva: 36 (4) games 8 goals, 11 assists
A wonderful season from El Mago who was an indispensible part of the title-winning team. Was forced to miss two months through injury and played on with an ankle problem towards the end of the season yet was still magnificent throughout.
Gael Clichy: 29 (3) games 0 goals, 1 assist
Gael interchanged the left-back role well with Kolarov and played his part to the full whenever called upon. Solid and reliable, his pace adds another dimension to the City attack.
Fernandinho: 43 (3) games 5 goals, 5 assists
A classy addition to Pellegrini's side, Ferna got better and better as the season progressed and his partnership with Yaya Toure was one of the highlights of City's campaign. A midfielder who has everything, his club form earned him a spot in the Brazil World Cup squad this summer.
Martin Demichelis: 34 (1) games 2 goals
After a difficult start to his City career, Martin ended the campaign as one of the most consistent performers of the team and won a legion of admirers in the process. He was also nominated for successive Player of the Month awards in the final weeks of the season.
Yaya Toure: 46 (3) games 24 goals, 12 assists
An immense season from an immense midfield presence, Yaya's 24 goals from a defensive holding position is nothing short of incredible. Yaya scored so many important goals, free-kicks and penalties, but his stunner in the Capital One Cup will take some beating.
Joleon Lescott: 21 (3) games 0 goals, 0 assists
It may be his last season in sky blue but Joleon will move on to pastures new with his head held high knowing he played his part in another title win. Hugely popular and like a rock whenever called upon, Joleon deserves his place in this list.
Matija Nastasic 18 (2) games, 0 assists
Despite missing almost four months of action due to injury, Matija's 20 appearances sees him qualify for the nominees list. A talented young defender, he will come back stronger next season.
Don't forget you can see the Player of the Year crowned at City Live in August.
Tickets for City Live are available from £25 and can be purchased online* at www.mcfc.co.uk/tickets, by calling +44 (0)161 444 1894 (option 1, 1, 2) (24hr, booking fee applies) or in-person at the Stadium Ticket Office, located on the first floor of the City Store.
*Disabled supporters are not able to purchase online. Please call the disabled ticket line on +44 (0) 161 444 1894 (option 1, 1, 1) or visit the Stadium Ticket Office.