First Team News
1
Pellegrini: Refereeing decisions decided the game
mcfc
Manuel Pellegrini declared that the referee played a decisive role in his team's 2-0 defeat to FC Barcelona.
Martin Demichelis was sent-off and a penalty was given after 55 minutes for a foul which the 60-year old believes was outside of the area and should never have been allowed to happen because of a foul to Jesus Navas in the build-up.
The Chilean thinks that it was a bad idea to select a referee who had made an "important error" at Barcelona's expense in their 2012 UEFA Champions League quarter-final against Milan.
Jonas Eriksson was openly criticised by then-Barcelona manager Pep Guardiola for failing to award his side two penalties in the first-leg's goalless draw at the San Siro.
"Well, I think the referee decided the game. Before the penalty, it was a foul on Navas – he was a few metres away, so he saw it and it should have been a free-kick," Pellegrini stated.
"I thought it was not a penalty – it was outside of the box. To play for 40 minutes without a player against Barcelona is very difficult.
"He refereed the game, Barcelona v Milan – he made an important error against Barcelona. Today, he rearranged."
Despite this disappointment at the official's performance, Pellegrini revealed that he was proud of his team's gutsy showing.
He was pleased that his team tried to overcome their one-man disadvantage to try and draw level in the tie.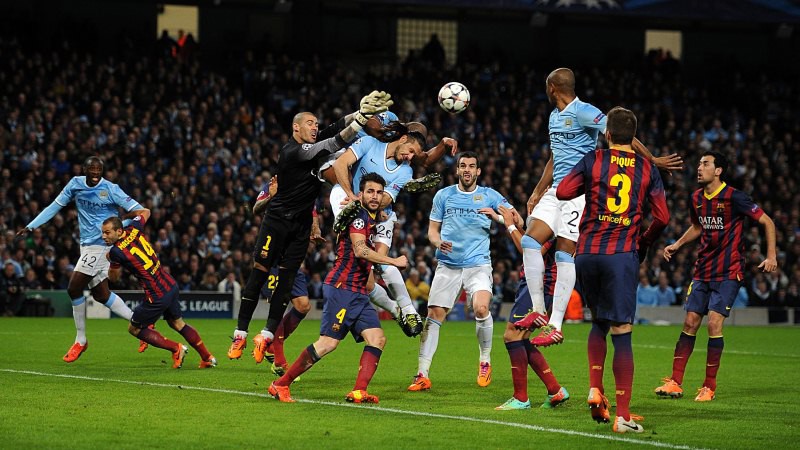 "We played very well, we tried to draw level but then they scored the second goal in the last minute," Manuel said.
"Barcelona didn't have any chances to score in the match until the penalty.
"It was important to continue playing the way we did and try to score. With one player less it was very difficult to score but we had two or three chances to do it.
"Silva forced a very good save from Valdes, Clichy had a good chance and the referee gave a foul when Dzeko had a clear chance.
"It's very difficult to analyse the game – before the penalty, Barcelona did not have any chances. We were just preparing a way to score a goal and then that happened.

...Manuel Pellegrini...
"Barcelona had a lot of the ball but they had it where we wanted. They were not near our area, that's what we wanted.
"Since the beginning, he [the referee] didn't give a good impression – he was decisive in this game. Even so, the team played with courage, with personality and tried to draw the match with ten men."
Pellegrini's counterpart Tata Martino warned that the tie wasn't over as far as he was concerned, with the second leg coming up in three weeks.
"Our intention was to win, our strategy was to win, so in that respect it was a fair result, but it is true we lost control for ten minutes in the first half, we did the same in the second half for ten minutes and City had two good chances to score," Martino reflected.
"Every time we gave them the advantage, it was a risk for us.
"I'm happy with the result, we played very well for the first 90 minutes but I say that because the game is 180 minutes. We'll approach the next game as if it's goalless.

...Tata Martino...
"I'm not confident [that the game is over], but it's true we did a good game away and we must now repeat the same performance at home.
"We're going to keep on playing with the same intensity, the same commitment to the second leg. We have a tough rival, almost at the same level – the only difference is that we won an away game but we can't forget that City lost to Munich at home but beat them away."
---
We have taken a massive 360 degree image of the fans at the match.
From 8pm (GMT) Wednesday you'll be able to tag yourself and enter competitions on www.mcfc.co.uk/cityfanpic.