First Team News
1
Pellegrini: The first game is always difficult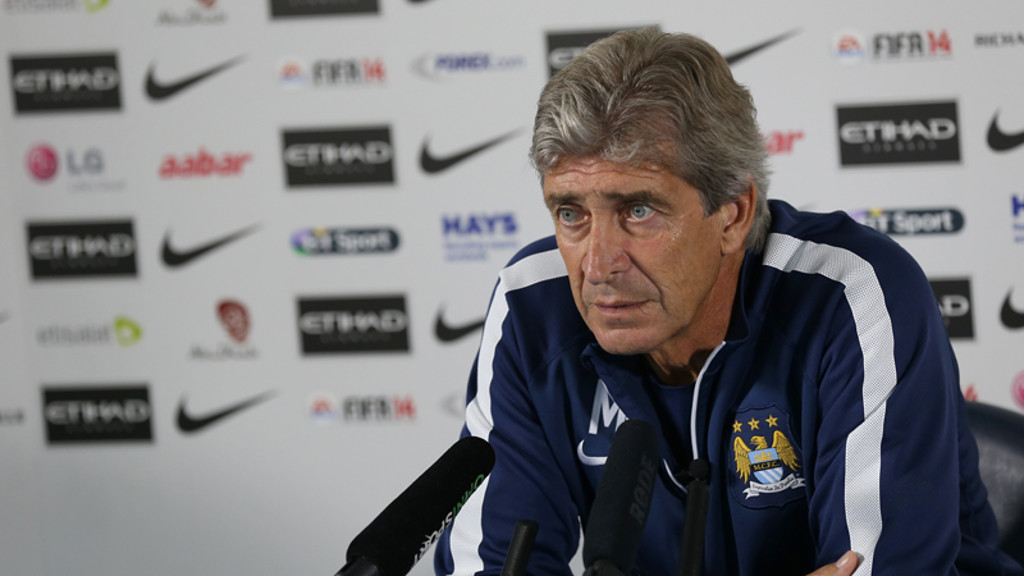 pellegrini
Manuel Pellegrini has confirmed he has not yet chosen his starting line-up for Sunday's Premier League opener against Newcastle.
The champions visit St James' Park eager to better last season's double-winning campaign but the Chilean revealed he does not have a fully fit squad at his disposal just yet.
"We will see tomorrow but not all of them [the players] will be available for Sunday," he asserted. "Most of them will. Maybe some players need some more days to be 100% but the whole squad is ready to start.
"I am not too happy with our preparations because I think we need more days for the players that arrived late. Though it was important for the players to have a good rest after the World Cup."
When asked whether Sergio Aguero or Eliaquim Mangala will feature, Pellegrini replied: "Always, this team needs Aguero but it is important for him to make a good pre-season.
"He has had so many months without playing normally so we are trying to make a mix for him: a mix of pre-season training and trying to get him to our level to play for the team.
"We will see [if he plays] on Sunday. I am not so sure if he will or will not.
"Mangala needs to work more with the team to be able to play. Maybe he will not play this weekend."
Pellegrini expects a tough challenge against the Magpies but is confident his side can produce the same scintillating form from last season to secure a victory.
"The first game is always the most difficult because it is the next one but it is also difficult for Newcastle," he stated.
"I expect my team to play well. It is a tough game and it is not easy to play in St James' Park but we will do our best and we hope to win the three points.
"I can't tell you what Newcastle will try to do but I hope they will try to win the three points at home."
Reflecting on the several new contracts signed by key players over the past week, Pellegrini expressed his delight, hinting at the possibility that further deals could be struck soon.
"It is very important for the club to retain the best players," he declared. "It is important also that they want to stay here because they are working very well and the club has a lot of ambition for the future.
"They understand that and maybe in the next day, you will know about other players who have extended their contracts.
"We have tried to have a stronger squad than last year. Last year, we had a very successful year but that is the past – it's history.
"I think the arrival of important players such as Willy Caballero, Bacary Sagna, Eliaquim Mangala, Fernando and Frank Lampard will make us a strong squad.
"It is very important for the team to have two good players in each position and we will see each week which player will start. We have so many games, we need a strong squad if we want to win something.
"The best thing for us is to progress in all competitions. It is not easy for us because we made a very good season and scored so many goals. Maybe it is not easy to repeat that again this season but we are going to try to continue playing the same football.
"We will try to be strong in defence and try to improve our FA Cup and Champions League performance. There are a lot of things an ambitious squad with a winning mentality will try to do and [we will] not just think 'we are the champions'."