First Team News
1
Dzeko signs four-year deal at City
He enjoyed a dream start to the season at St James' Park and now the new Bosnia-Herzegovina captain has committed his future to the champions.
Edin Dzeko, one of the most decisive players in the club's recent history, has signed a new four-year contract at City which will keep him at the Etihad Stadium until at least 2018.
Commenting on this announcement, Edin said: "I'm really happy here at City, it's a second home to me, so it was an easy decision to stay for the long-term.
"I knew from the beginning when I started here that I wanted to stay for a long time - I can't see any place better than here.
"I'm settled perfectly to life here, I know my teammates, the club, the team, very well and I feel like I can improve even more.
"Over the last three and a half years we've made history together but I feel like we are only at the start of something really special.
"There are still so many objectives and goals that I want to reach from my career in the game and I believe that I am in the perfect place to achieve them all.
"The fans have always shown so much faith in my ability and I feel so much love, both from supporters inside Manchester and from those all over the world.
"I hope I can continue to repay this unbelievable support over the coming season and beyond."

...Edin Dzeko...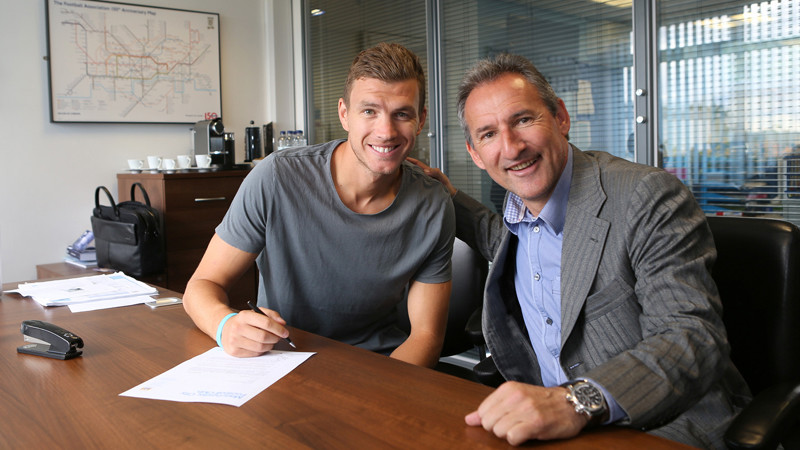 Dzeko has appeared for City on 155 occasions in all competitions since he joined from Wolfsburg on 3 January 2011.
In that time he has scored 66 goals for the reigning champions, including a number of the most important strikes in the club's recent history.
Who can forget Dzeko's last minute equaliser against QPR on 13 May 2012 which paved the way for a moment 44 years in the making, or his double against Everton last May which put City on the brink of a second title in three years?
Last season, Edin weighed in with 26 goals across four competitions and featured in all but seven games in his team's run to a second Premier League title in three years.
Included in his 26 strikes was the pivotal opening goal in the penultimate game of the season against Aston Villa.
That wasn't his only contribution to the title run-in – Dzeko scored five goals in the last four games of the season, including that brace against Everton in the crucial 3-2 win at Goodison Park.
In the Premier League, Edin has has scored 46 times and 25 of those goals (60.87%) have seen City take the lead or equalise, proving just what a vital asset he has been since signing in January 2011.
In his three and a half year spell at the club, the 28-year old has won the FA Cup, the League Cup and two Premier League titles.
The Bosnian represented his nation at their first World Cup this summer, scoring the winning goal against Iran in their final group game.
He was named as the new skipper of the national team ten days ago and will be hoping to fire the Dragons to Euro 2016 over the coming two years.
Dzeko began his season with a man of the match winning performance against Newcastle on Sunday, setting up David Silva for the first goal of City's 2014/15 season with a sublime backheel.
He joins Aleksandar Kolarov, Samir Nasri, Silva, Vincent Kompany and Sergio Aguero in committing his future to the club this summer.
We'll have our exclusive CityTV interview with Edin on the site on Thursday.