First Team News
1
Pellegrini: Players who returned on Monday will not feature
presser
Manuel Pellegrini has confirmed the City players who only returned to training this week will not feature in Sunday's Community Shield game against Arsenal.
Speaking in his pre-match press conference, the Chilean revealed Martin Demichelis, Vincent Kompany, Pablo Zabaleta, Bacary Sagna, Fernandinho and Sergio Aguero will not be fit enough for the clash with the Gunners - nor will new signing Frank Lampard.
Pellegrini also divulged there are no new injury concerns ahead of the trip to Wembley.
"All the players that have arrived on Monday will not be ready to play on Sunday," he disclosed. "These players have had a special pre-season for this week and it will continue into next week.
"Lampard is not ready to play. We will see if he is ready to play in the Premier League.
"For the moment, the squad has no injury problems – only Alvaro Negredo. He is recovering well but he has at least two or three months that he will not play.
"He is at Carrington, working on different things so there is no problem."
Sharing his thoughts on the game itself, Pellegrini rubbished the idea of the Community Shield being viewed as a friendly, insisting he would approach the encounter with the desire to win. He also expressed his surprise at Arsene Wenger's recent comments in the media on City's latest signing.
"It is not a friendly match," he asserted. "It is an important game against an important team in Arsenal.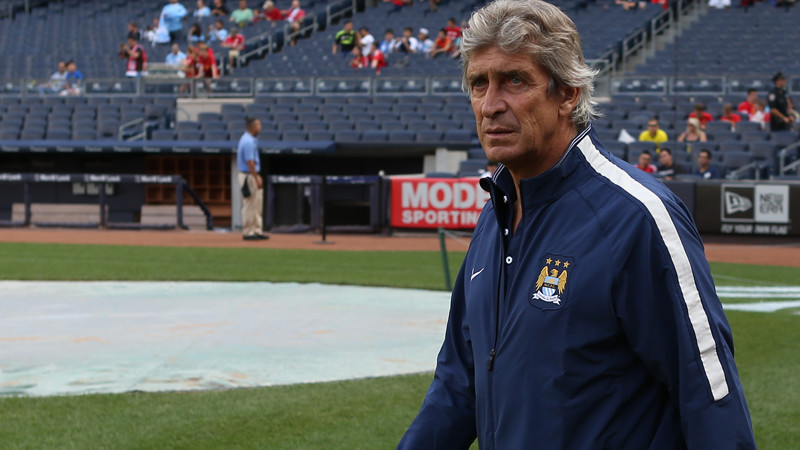 "Maybe both teams will not arrive in our best moments to play in the competition because both teams have players that have just returned from the World Cup.
"I think it will be a very good game. It is important for both teams to win it so we will try to do it.
"I was surprised when I heard what Arsene Wenger said [in his press conference]. I think that as managers, we have enough problems without talking about other teams.
"Lampard was a free player so we haven't spent any money in bringing him here. I don't understand the reaction of Chelsea fans saying he is a 'traitor' because he was not playing for Chelsea.
"The problem was not that he didn't want to sign another contract with Chelsea. Chelsea did not want him anymore, but he wanted to continue playing. He is a competitive player so he is very important for our team."
When asked of his targets for the coming campaign, the City boss simply replied they were the same as last season - to succeed in as many competitions as possible.
"We will try to play in the four competitions we must play in," he declared. "We will continue to try to win the Premier League, the FA Cup, the Capital One Cup and the Champions League. We will see during the season what we can really do.
"I don't have a target to win titles. Every time I play a competition, I want to win it."
The 60-year-old also conveyed his delight at the capture of his new recruits, stating: "I am very happy with the new signings.
"We have important restrictions from UEFA about the amount of players and money we can spend but I think we have a stronger team than last year.
"The players who have arrived at the moment – Lampard, Sagna, Willy Caballero and Fernando – will be important players for us.
"Caballero has settled in very well. I know him from Malaga and he is very happy here.
"That's why I said I think we have a stronger team than last year. I am sure Willy will be important for us but I also think we have the best goalkeeper in England in Joe Hart.
"Top teams need two players for each position because, with many games during the year, it is impossible to have a very strong squad. The best way to have a high performance from the players is to have competition between them."
Pellegrini also remained coy when asked to comment on the speculation on the futures of Yaya Toure and Eliaquim Mangala.
"There were a lot of different reports about a lot of things but Yaya does not have any problem," he shrugged. "He is working here as normal, he wants to stay and he is very happy here.
"Most of the things people have been talking about during the break, I never heard Yaya say.
"For the moment, Eliaquim Mangala is not our player. When things are finished, we can talk about that. It does not matter how close the deal is, he is not a player in our squad."