Men's Team
1
Sunday best is needed says skipper
Vincent-Kompany-celebrating-at-the-end-of-the-game-PA-19390781.jpg
Vincent Kompany says City will need to be strong in every department if the Blues are to leave Merseyside with maximum points.
The City skipper expects the game to be anything but dull and knows he will probably be in for a busy afternoon at Anfield, but is confident his side have the quality to cope with the Premier League's current top scorers.
"We are playing a very good team and we know how hard this is going to be, but we will go to Anfield in confident mood," said Kompany.
"They have scored a lot of goals – as have we – but we've only conceded two goals in our last seven Premier League games so we've been defending well, too and that will be just as important as our strikers finding the net on Sunday.
"It's a game between two teams with slightly different styles but the same philosophy and I think it will be a very entertaining match because both teams try to score goals.
"We remember the match against them earlier in the season and for me, Liverpool are still the best team we've faced at the Etihad in the Premier League.
"They have been on a fantastic run and we know we have to be focused and leave the pitch at the end knowing we've given everything because there is so much at stake in this game, but then again, this is a great challenge for us.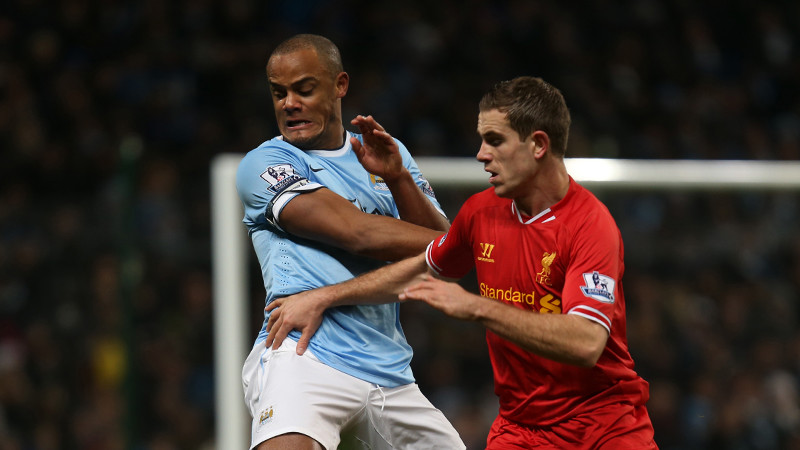 "They have a great squad and while we will be wary of that, I think we have quite a few great players of our own."
City edged a 2-1 win in the first meeting between the clubs over the festive period and are looking to record a rare league double over the Reds.
The last time the Blues beat the Merseysiders both home and away was 77 years ago back in 1937 – and Kompany has pointed to high profile successes away to other notoriously difficult venues this season as good reason to believe that run can end.
"I have a lot of respect for Liverpool and they are not at the top of the league by luck, but my only concern is making sure we play the best we can and that we come away with a positive result," he said.
"We've been to Old Trafford, White Hart Lane and the Allianz Arena and come away with victories this season and our form on the road is as good as anyone.
"We know it will be an emotionally charged atmosphere because the 25th Hillsborough anniversary is next week, but we are going to Anfield to do a job and our aim is to come home with three points.
"We know that if the players, supporters and staff around our club stand together, we are capable of anything.
"And I don't believe the Chelsea players think they are out of the title race, either.
"We have to go to Anfield and so do Chelsea so if I was a Chelsea player, I'd still believe. It will be fascinating and I'm certain it will go right down to the wire."
---
The race for the Premier League has come to the boil, so make sure you're there to lend your support as we bid for a second title in three years.
Tickets are still available for the two of the last first-team games taking place at the Etihad Stadium this season, against Sunderland and West Brom.
They could be decisive clashes, so don't miss out.