Men's Team
1
Pellegrini delights in dominant derby triumph
Pellegrini two
Manuel Pellegrini hailed the comprehensive nature of his side's derby day victory.
A Sergio Aguero brace, as well as strikes from Samir Nasri and Yaya Toure helped the Blues to a memorable 4-1 triumph over Manchester United.
Although it's still early in the season, City's Chilean boss believes his side may have landed a significant psychological blow in the title race.
"It was a very important result, normally you don't expect to win 4-1 against Manchester United but the most important thing was the way we played - I am very happy," Pellegrini said in the post-match press conference.
"Normally derbies are more equal but today we had a very good day and that allowed us to have superiority against Manchester United this afternoon.
"Winning the way we won today will give us a lot of confidence.
"I would be very happy if we win all of the games 4-1 but we must improve every game. Not every game is the same, we are just starting in another way to play and I hope we will improve every day.
"Always winning against Manchester United and the way we won could have an important impact.
"We showed against Newcastle, the way we want to play in the first game – we showed it again today. I'm very satisfied.

...Manuel Pellegrini...
For the best part of an hour, City were rampant and looked capable of cutting open their rivals with each incisive attack.
There was a time in the match at 4-0 when an annihilation looked on the cards but Pellegrini was far from disappointed that his team failed to improve on the four-goal advantage they gained as early as the 50th minute.
"I'm not disappointed," he declared, "I think we played a little bit quickly in the second half, I think we tried to play box to box which wasn't the way to play in those circumstances.
"We had so much space and we are always trying to tell players to play independently of the score but I think that would have been useful for us in the last forty minutes.
"We have to play United again in three months but until then, the fans will enjoy that result. For the team, winning the way we did today will give us a lot of confidence.
"If the team really did a good performance today, it's because they had very good individual performances as well as collectively."

...Manuel Pellegrini...
The 60-year old is a veteran of Spanish El Clasicos and Argentine Superclasicos and he admitted that he enjoyed his first taste of the Manchester derby, although he was reluctant to compare it to what he's been through before.
"It's a very important derby – luckily for me I played a lot of them in Argentine, Chile, Spain – I don't like to compare them. It was very important, I enjoyed it," he reflected after the match.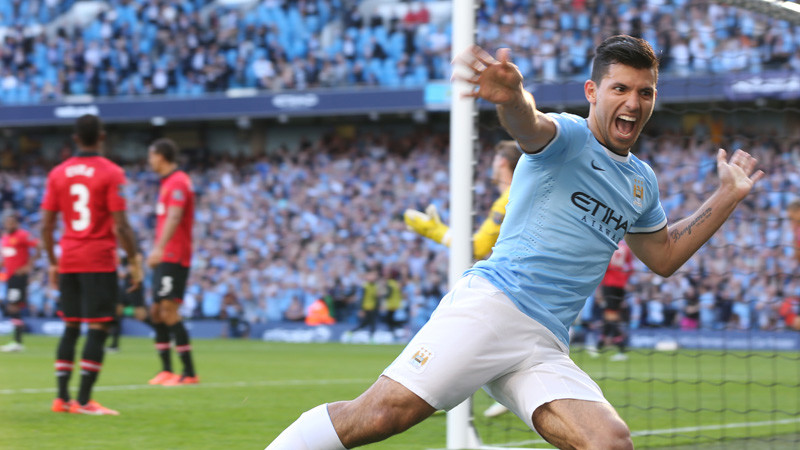 Pellegrini's counterpart David Moyes was also experiencing his first Manchester derby.
The Scotsman admitted that the home side deserved their victory and bemoaned the slow start his team made to the match.
"We didn't' start the game well," Moyes stated.
"City were the better team, they controlled the game from the start and we found it difficult to contain them.

...David Moyes...
"As the half wore on I thought we gained a bit more control but then they scored a second goal before half-time.
"It was one game and there's plenty of them to come and there's plenty of time to go.
"We were a yard behind them, we never got the pitch of the game which was disappointing. We had a good result to build on in midweek but we never quite got to grips with this task.
"I thought Wayne Rooney was possibly the best player on the pitch today – he didn't deserve to be on the losing team."