Ahead of Saturday's FA Cup Final clash at Wembley, we examine which of the City squad has the best career goalscoring record in the competition…
For this list, any goal scored in the FA Cup has been counted, regardless of whether the player scored it while in a City shirt. Of course, they'll all be hoping to add to their tallies against Wigan this weekend, but who has scored the most to date?
Carlos Tevez 11 goals
Comfortable leader of this list, Carlos Tevez has found the back of the net 11 times in the competition, turning out 18 times. His hattrick against Barnsley earlier this season contributed heavily to his total of five in this year's competition, but Carlos also scored three times on the way to picking up the trophy in 2011.
James Milner 6 goals
James Milner has scored FA Cup goals for three teams in his 11 year career, netting for Newcastle and Aston Villa before bagging one for City against Leicester in 2011. It proved vital, helping to secure a replay for the Blues which set them off on the journey to Wembley.
Sergio Aguero 4 goals 4 appearances
Sergio Aguero has a quite astonishing record in the FA Cup, with a goal for each of his four appearances in the competition. Scorer of the winner against Chelsea to book the Blues a place in Saturday's final, the Argentinian frontman also scored twice against Leeds earlier this season. In fact, Sergio has appeared in just one FA Cup game in which he wasn't on the scoresheet.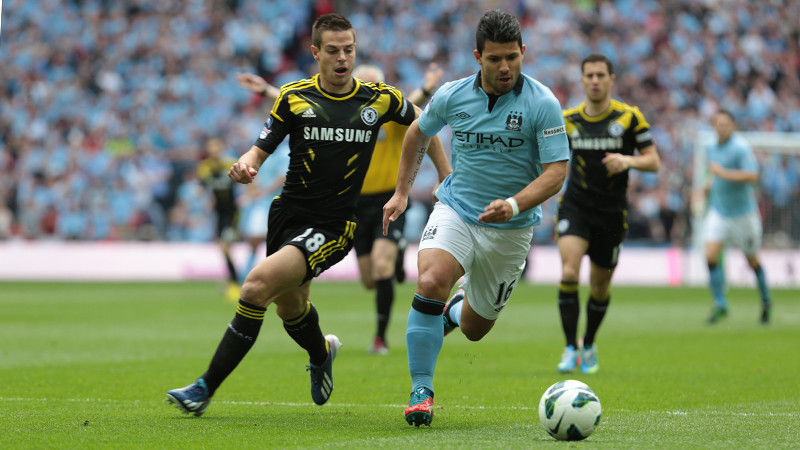 Yaya Toure 4 goals, 10 appearances
Another with four goals, Yaya Toure just slips down the list based on the fact he's taken more appearances to reach the same number. An FA Cup hero in a City shirt, half of Yaya's FA Cup goals have been scored at Wembley! Few City fans will forget those two strikes, with the first despatching neighbours Manchester United in the 2011 semi-final. The second was even more special, as the Ivorian's goal against Stoke City in the final proved the winner in a tightly-contested affair in the Wembley sunshine and sealed City's first trophy in 35 years. He also found time to score the opener against Leeds in this year's journey to the final.
Scott Sinclair 4 goals 14 appearances
Scott Sinclair has taken 14 appearances to chalk up his four goals. Signed from Swansea last summer, the pacey winger is yet to score for the Blues but has netted for Plymouth Argyle, Swansea and Saturday's opponents, Wigan.
Gareth Barry 4 goals 35 appearances
Top of the list for career appearances in this competition, Gareth Barry has been on the scoresheet four times. In a 12 year career with Aston Villa he contributed three FA Cup goals, and scored his first in a City shirt in this competition in January, when he grabbed the second against Watford.
Aleksandar Kolarov, Micah Richards, Kolo Toure 3 goals
Of the three members of the Blues squad with three FA Cup goals to their name, only Kolo Toure has scored in a different club's shirt. Micah Richards scored perhaps the most memorable goal of the trio, heading home an injury time equaliser against Aston Villa in 2006 to snatch an unlikely replay.