First Team News
1
Patrick Vieira throws ceremonial first pitch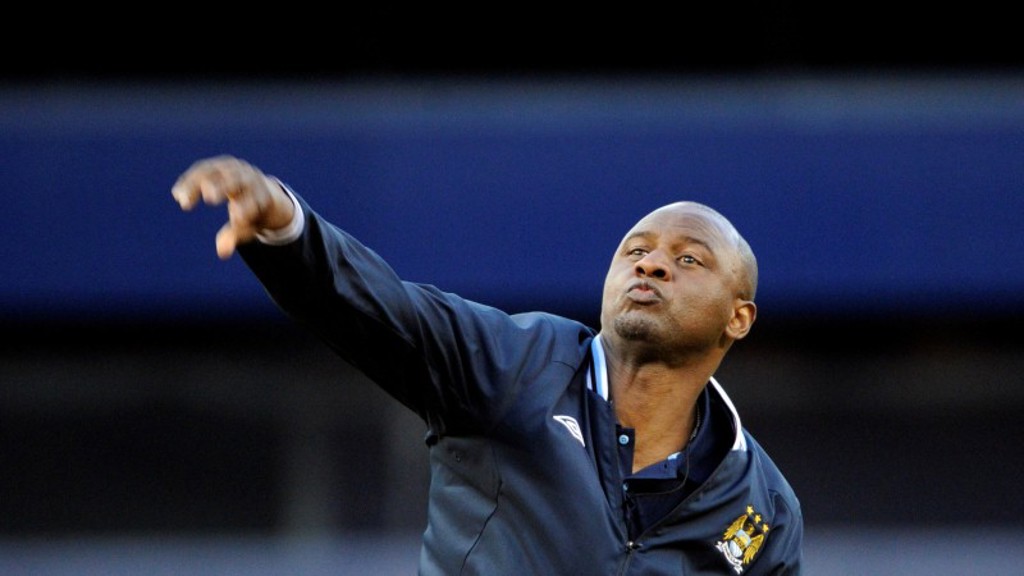 Patrick Vieira
Patrick Vieira threw the ceremonial first pitch ahead of the baseball match between the Yankees and the Blue Jays in New York on Saturday.
Vieira, who will take over as the new Head of the Elite Development Squad on 1 June, was invited to throw the first pitch - traditionally a big honour - on a trip to New York.
At the Yankee stadium preparing to throw the first pitch. First time I've thrown a baseball since I was 14! twitter.com/OfficialVieira…

— Patrick Vieira (@OfficialVieira) May 17, 2013
The former City midfielder also found time to swap stories with Yankees pitcher Mariano Rivera in the same stadium where the Blues will face Chelsea on 25 May.
Prior to the match between the clubs, scheduled to kick off at 5.30pm EST, Yankee Stadium will host its first-ever "UEFA Champions League Viewing" — a live screening on the Stadium's 59-foot-high by 101-foot-long high-definition centerfield video board of FOX Sports' telecast of the UEFA Champions League Final.
The televised match will feature four-time European champion Bayern Munich (1974-76, 2001) and 1997 winner Borussia Dortmund. In-Stadium pregame coverage will begin at 2:00 p.m. followed by the match from Wembley Stadium in London at 2:45 p.m.
All tickets for the May 25 event include both the viewing party and the live match. Gates will open at 2:00 p.m. Fans should note that if the televised match runs into extra time and/or penalties, the start time of the Manchester City-Chelsea match will be no earlier than 15 minutes following the conclusion of the UEFA Champions League Final.
Get your ticket information here or buy now at www.yankees.com/soccer or www.ticketmaster.com
We will bring you full coverage of the tour that will immediately follow the Barclays Premier League season here on mcfc.co.uk.
Get all the latest news, event and competitions straight to your inbox!