FA Cup trophy 1956
Often remembered for Bert Trautmann's heroics in the final, City sealed their third FA Cup in 1956 after a thrilling and nerve-racking run to Wembley.
Following in the footsteps of Sam Cowan in 1933, captain Roy Paul promised after defeat to Newcastle in the 1955 final that he would return to lift the trophy himself 12 months later.
City were no stranger to Wembley disappointment, having lost three of the five finals they contested prior to this famous success, but this would prove the second time the Blues were crowned winners after collecting runners up medals the previous year.
Supporters who packed into Maine Road on third round weekend in January could not have dreamed that their skipper's words would come to fruition when City fell behind to visitors Blackpool within just seconds of kick-off.
Fate dealt City another cruel blow when the match was abandoned due to fog immediately after they had found an equaliser in the second half.
Happily, the replay proved more straightforward and City ran out 2-1 winners thanks to goals from Jack Dyson and Bobby Johnstone.
This FA Cup run began to take on a surreal hue when City were drawn against Third Division side Southend in the fourth round, and contested the game on a pitch that required a trench filled with sand.
Roots Hall was just months old that season and was beset by drainage problems, not helped by the previous week's torrential rain. The result was an uneven pitch more suited to the home side who gave Trautmann plenty to do between the posts, but Joe Hayes eventually found a winner for Les McDowall's team.
The Blues might have been relieved to return to Maine Road in the following round where they hosted Liverpool, but a 0-0 draw required another go at Anfield.
On paper, the replay might look like a straightforward 2-1 win, with Dyson and Johnstone once more supplying the necessary goals, but this fixture added an element of controversy to the cup run when the referee blew the final whistle just as Liverpool's Billy Liddell was bearing down on goal.
He found the net before realising his strike would not count.
A quarter-final against Everton was City's reward, and they enjoyed home advantage once more, coming back from a goal down to advance to the semis. The familiar names of Johnstone and Hayes were City's rescuers again.
If fans thought they might be spared agony in the semi-final, it didn't feel like it when Bert Trautmann brought down Spurs forward George Robb in the final minutes with City leading by a solitary Bobby Johnstone strike.
70,000 hearts leaped into mouths, but the Blue half were the ones celebrating when the referee waved away penalty claims and City held on to reach the final.

...FA Cup Glory, 1956...
Birmingham had been talked up as favourites in the weeks leading up to the showpiece game, while City suffered injury doubts. In the end, eight of the previous year's starters again took their places on the Wembley turf before kick-off.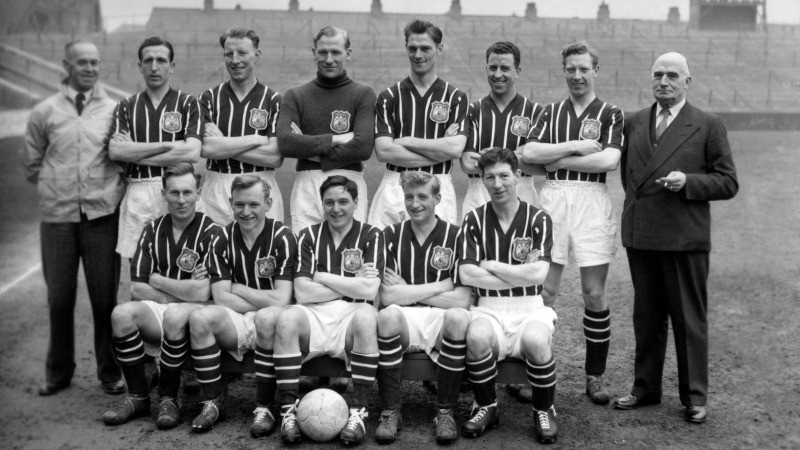 But 1956 had been no ordinary cup run, and the final would be remembered as one of the most extraordinary in history.
The Blues were ahead after three minutes, Hayes once more getting his name on the scoresheet after being played in by Don Revie. Their opponents equalised not long after, and put the ball in the net twice more but were judged to be offside on both occasions.
After an hour, City raced to a two-goal lead through Dyson and Johnstone. It was perhaps fitting that all three should be on the scoresheet in the final, having contributed so much to City's journey to get there. Johnstone became the first player to score in consecutive Wembley finals.
Suddenly, tragedy occurred. Ex-World War II paratrooper and City keeper Bert Trautmann was called upon to preserve City's lead and collided in sickening fashion with Birmingham's Peter Murphy. He was knocked out and required lengthy treatment.
Substitutes were not permitted and it looked as if the Blues would be hanging on for the last 17 minutes with ten men. But Trautmann was not beaten easily, and bravely assured his side he would continue.
His teammates did their best to smack the ball as far as possible away from his goal, but the German was called upon to make two more crucial saves. The second caused the keeper to be knocked out again during a clash with his own defender.
It was only later when X-rays revealed a broken bone in his neck that the country realised exactly how brave Trautmann's actions had been on 5 May 1956, although fans sang his name in tribute as he ascended the famous stairs to pick up his winners' medal.

...FA Cup Glory 1956...
It was an extraordinary performance to cap an incredible cup run, the likes of which we (probably) won't see again.