Five links between the two clubs ahead of Saturday's Premier League clash...
George Heslop
George Heslop began his career with Newcastle United but never really established himself at St James' Park in his two years with the club. He had three more bit-part years with Everton before joining City in 1965 where he became an integral part of the Blues' all-conquering late sixties team.
Stuart Pearce
While it's fair to say neither City nor Newcastle had Stuart Pearce at his peak, both clubs enjoyed his time with them as a player. Pearce clocked up 51 appearances in two seasons in the north-east after 12 years sterling service with Nottingham Forest. City were his last club and he skippered the Blues to promotion in 2001/02 before later becoming manager.

Joey Barton
Though Joey Barton endures a love-hate relationship with the City fans, few now would question his passion or commitment every time he played for the Blues.
An underrated talent, he was often his own worst enemy for a time, yet Barton clocked up 153 appearances after graduating through the City Academy system. He eventually severed his ties with a move to the Magpies where his four years were no less colourful.
Antoine Sibierski
Signed from Lens in 2003 as a long-term replacement for Eyal Berkovic, Sibierski would remain with City for a further three seasons before joining the Magpies for one year. A useful target man with good technical ability, Antoine was good value for both clubs and was a popular figure on Tyneside despite early reservations from supporters.
Craig Bellamy
Craig Bellamy spent more time as a Newcastle player than any other of his ten clubs, but it's fair to say it was also perhaps his most controversial stay with numerous clashes with team-mates, coaches and managers during an explosive four years.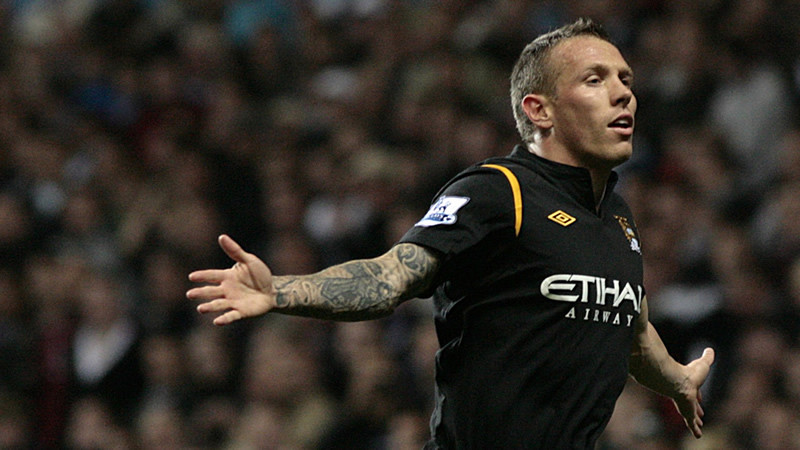 A hugely popular figure during his time with City, Bellamy showed he had matured as a player and proved a terrific signing for Mark Hughes. Who could forget his two goals in the 2009/10 Manchester derby? With 'Bellers', there was never a dull moment!