Men's Team
1
City and Black Aces launch School of Football clinics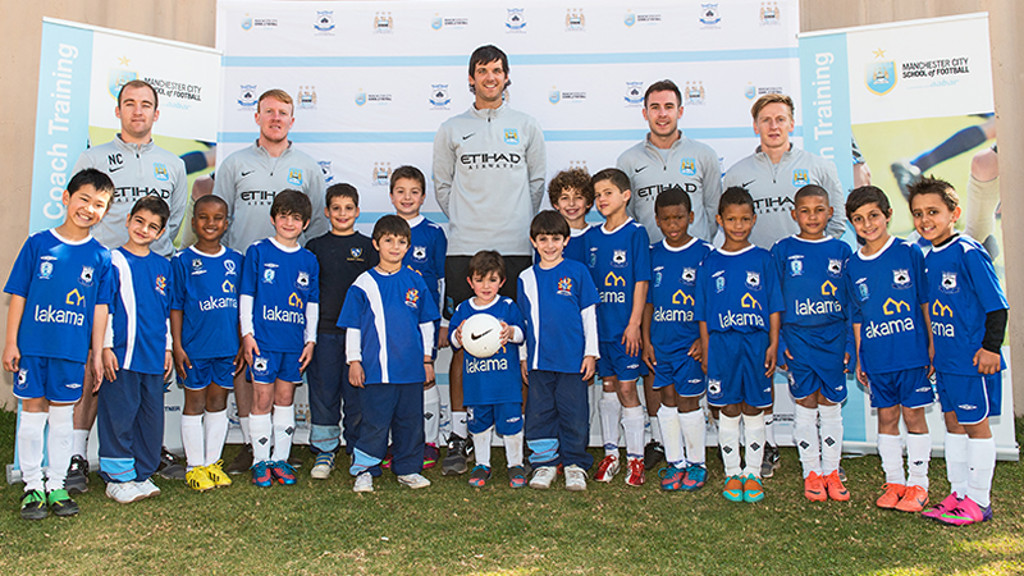 sof south africa
Members of City's much-praised School of Football arrived in Johannesburg earlier this week to launch a three-year coaching partnership with Mpumalanga Black Aces Football Club.
Three days of football clinics will commence today at the Greek Sporting Club near Linksfield, Johannesburg providing over 150 players aged between U6 and U11 with top level coaching delivered by City's UEFA qualified youth coaches Simon Hewitt, Jonny Marsh, Lewis Childs, Chris McCarthy and Nick Cushing.
Furthermore, a surprise for the youngsters is that they will accompany the visiting coaches to watch the Blues in action against PSL side Supersport United at Loftus Stadium on Sunday as part of the Nelson Mandela Football Invitational.
The three-year partnership between Black Aces and the Club, will see City's youth coaches travelling to South Africa to conduct coaching clinics three times a year. There will also be one of the age group teams from the South African side travelling to England in September to spend seven days in Manchester, training and playing matches at the Blues' academy.
"From a Mpumalanga Black Aces perspective, we are very excited about the School of Football partnership with Manchester City as we look to provide our young players with the best in technical coaching from an early age which can only be of value to our club as far as the future is concerned," said Mpumalanga Black Aces co-chairman and CEO Mario Morfou.
Patrick Vieira, Head of City's Elite Development Squad, said: "South Africa's love of football was clear for the world to see during both the World Cup, and most recently the Cup of Nations. The national pride shown for hosting both tournaments is a testament to how the country and people embrace the sport.
It's a privilege for Manchester City to be a part of South Africa's youth football development by passing on our expertise to the Black Aces coaches, at a time when the country is fast becoming a force in world football.

...Patrick Vieira
"Through shared learning, both clubs' can work together in order to provide children with a holistic football experience that places equal importance on football and education."
City's School of Football manager Gavin Rhodes added: "This is the beginning of an exciting project for MCFC SoF. We are very much looking forward to working with the young players and coaching team at the Black Aces academy. Furthermore, this enables ourselves to provide a unique experience for select groups of players and coaches, who will be given the opportunity to visit our academy in Manchester over the next three years"