First Team News
1
The List: Passes completed
This week, it's time to celebrate City's pass masters…
In this age of pass completion rates, we find out who the champions' metronomes are – the players who keep City ticking along in possession more than anyone else.
1. Yaya Toure – 2007 passes completed
It's probably no surprise to anyone to find Ivorian international Yaya Toure atop this list.
Even though he spent a month in South Africa at the African Cup of Nations, he's still 500 passes ahead of his nearest challenger and, whether from deep or in behind the striker, Yaya tends to effortlessly find a teammate with his passes.
Adept at playing it simple, lending the ball for one-twos, or even completing the most audacious through balls (see Newcastle United away this season), Yaya is City's undisputed pass master.
2. David Silva – 1510 passes completed
David Silva's injury troubles at the start of the season may explain why he's not closer to Yaya in terms of passes completed but perhaps the fact that he attempts the most killer passes in the City ranks also goes some way towards explaining it.
Against Chelsea, David yet again showed just how technically gifted he is on the ball, playing a pivotal role in City's 2-0 victory.
3. Gareth Barry – 1473 passes completed
The man who has already doubled his goalscoring return from last season features high on the passes completed list.
Gareth Barry is so often the man to win back possession for the Blues and to play simple passes to the more creative forces in the City XI to send the Blues on their way to another attacking raid.
No wonder David Silva voted Barry as his player of the season last year!
4. Vincent Kompany – 1311 passes completed
Due to his position and the games missed by the skipper through injury and suspension this season, Vincent Kompany's is another name that may come as a surprise to find on this list.
Tackling may be the attribute we would most naturally associate with the Belgian centre-back but so often Vincent plays the first pass out of defence and helps City to keep possession at dangerous moments of the game to take the sting out of the opposition's attacking overtures.
5. Pablo Zabaleta – 1106 passes completed
It just wouldn't be a List in 2012/13 without the name of Pablo Zabaleta cropping up.
The Argentine full-back has contributed in so many different ways already this season – finding crucial goals, putting in vital interceptions and creating chances for teammates but he can pick out a pass too, as his presence among this company proves.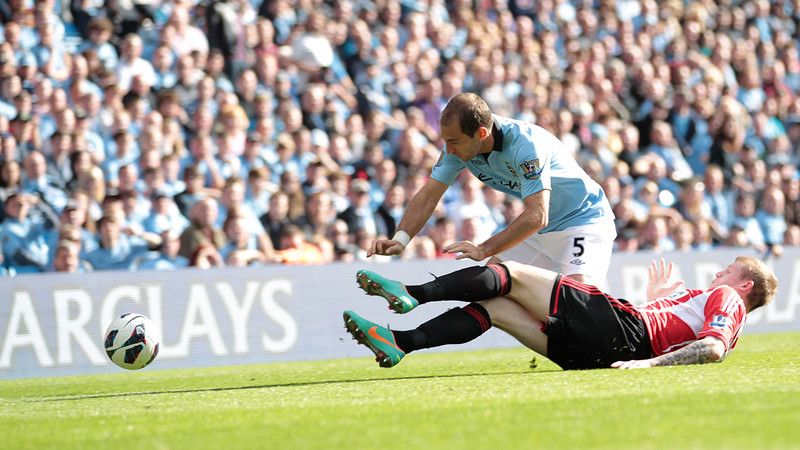 6. Gael Clichy - 1045. 7. Matija Nastasic - 968. 8. Carlos Tevez - 941. 9. Javi Garcia - 930. 10. Samir Nasri - 879.
Statistics kindly provided by Opta.