Though successive draws have seen a five-point deficit become nine, Hart knows a couple of results could change things markedly – either way.
What he is certain of is that the Blues must leave the south coast on Saturday with three points in the bag – or face the likelihood that United's lead at the top is too great.

"We have to win at Southampton," he said.
We can't hide the facts. We are nine points behind with 13 games to go, so we need the win and continue from there

...Joe Hart..
"We need to do what we have done in the last seven games before the Liverpool game where we had won six and drawn one. We need to start winning again starting on Saturday
"We will always be in with a shout, but unfortunately it's a big gap and getting too big for our liking. You have to move forward, and that means three points at the weekend."
Typically, Hart refused to blame the fact Yaya and Kolo Toure have been absent of late or injury and suspension affecting the Blues' form. Said Hart: "It is what it is. Everyone has problems – you can't have 25 machines. People get injured, and it's a tough season, so we have to adapt.
"It's obviously great that Yaya, Kolo and Abdul are back earlier than expected - we've got to be happy because the more players the better."
The England keeper also revealed there has been no player inquests as to why the team haven't quite hit the heights of last season so far because there is always a healthy debate going on between the squad members.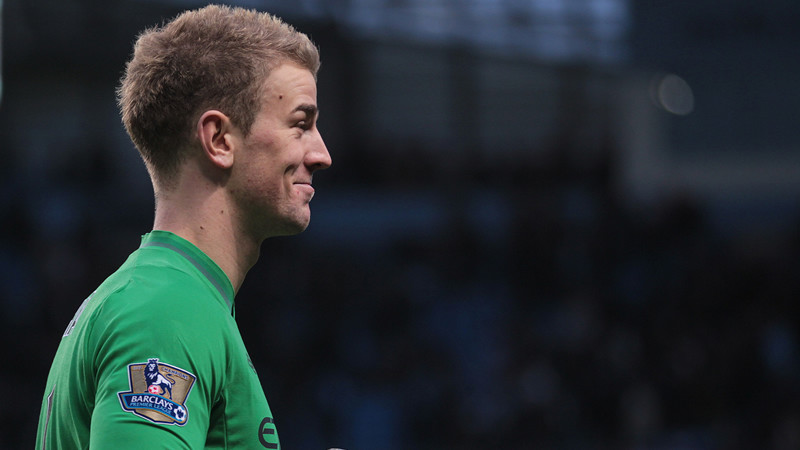 "We do that all the time," he said.
It's not like we just float along and think 'Oh my God, we're six points behind, we're nine points behind and we had better talk to each other'

...Hart...
"The same stuff goes on – there is stuff we need to address and that gets done on a regular basis; of course we still feel we can do this.
"That's who we are, and that's what we are. We've put ourselves in a worse position than we would like to be, but that's football sometimes.

"The only time we can really have a direct impact on United is when we play them. They do what they do, and I'm sure they have realised that if they play well they have a very good chance of taking the title, but we know that we will always be there or thereabouts."