Men's Team
1
Pellegrini: Draw was the logical result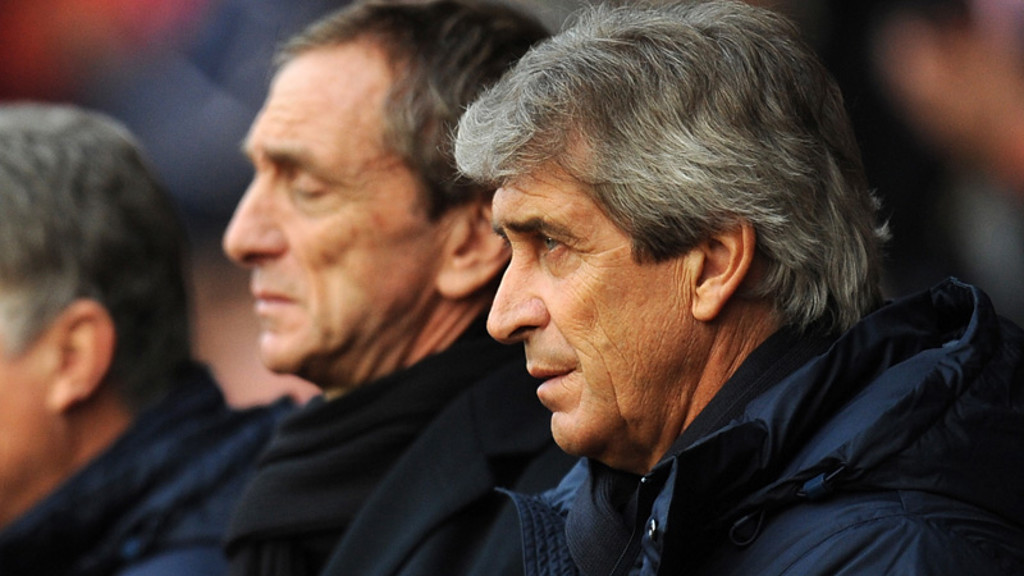 Manuel mid game
Manuel Pellegrini revealed that he is satisfied to return home with a point after City's draw at St Mary's.
When Sergio Aguero put the Chilean's side ahead after ten minutes, it looked like it might be another goal-scoring bonanza for the Blues but the Saints steadied the ship and equalised through Osvaldo just before half-time.
That's how it stayed and the 60-year old believes that 1-1 was a fair result based on the pattern of play over the course of the game.
"I am pleased with a point because I think both teams deserved a point - I think it was a logical result," Pellegrini declared.
"The result is a good point for us, we didn't play better than Southampton – they played well.
"I think we started well but then we started to lose the ball too easily – it's very difficult to play against that Southampton team when you are always running behind the ball.
"It was a very tough game for our team. If you see the position of Southampton in the table, it's a good position considering that they have lost their last few matches."

...Manuel Pellegrini...
In the build-up to this encounter, much was made of past links between Pellegrini and Pochettino, harking back to their days in charge of Malaga and Espanyol in La Liga.
The City boss paid tribute to his fellow South American and stated his belief that the 41-year old is doing a very good job on the south coast.
"I know how Pochettino likes his teams to play and they did very well," Manuel stated.
"It's a hard place to come. It's a very good team, in a good position in the table. They lost their last few games against Arsenal, Chelsea and Aston Villa but before that they played really well.
"We lost control of the game. We started well, we had chances to score the second one and after that I think we started to play too quickly.
"That was the problem during the first half."
Pellegrini's biggest disappointment was that his team didn't build on their bright start to the game and pointed to the example of last Wednesday night's win over West Brom as to how they should approach away games.
"I think we must play like we played against West Brom, we score a goal early and we must continue to keep possession and keep trying to score the second goal and not try to play so fast," he said.
"We always want to win all of the games. I'm not disappointed with the point. I repeat: it was a logical result – in other games away, I was maybe disappointed because we didn't deserve to lose but not today.
"Of course we'd like to win all of our matches but it's not possible.
"It's very close this year in the Premier League and it's very difficult to win anywhere because the difference is very little between the teams.

...Manuel Pellegrini...
"We'll see what happens against Arsenal - that will be a very important game."
Pellegrini's managerial counterpart Mauricio Pochettino shared his pride at the performance of his team after the game.
"I'm proud of my team, despite the bad run we've been on; I think a draw was a fair result. We could have even got a win today," Pochettino asserted.
"I think we always show good character – we were up against a very tough Manchester City team and we played very well.
"We won the possession statistic against the team who have the best possession stats in the league, which is a good achievement."