City's clash with Liverpool on Boxing Day is hardly a game that requires the big sell.
Liverpool's exceptional form in the first half of the season has set up the match as a meeting of genuine title contenders but dig beneath the surface and there's more subplots than any Hollywood blockbuster in those well-leafed TV guides this Yuletide season.
There's Fernandinho versus Lucas Leiva with Brazil 2014 coming up fast and one of the league's best strikers in Luis Suarez against one of the division's top defenders in Vincent Kompany, but one personal duel dominates all others.
Although they've been on the same team on many occasions at City and with the Ivory Coast national team, Kolo and Yaya Toure have never been on opposing sides in a competitive match in their long and storied careers.
That remarkable run could end on Boxing Day and it's fair to say that the brothers are excited by the prospect.
"It'll be the first competitive game we've played against each other," Yaya laughed.
"We played the Gamper Trophy when I was at Barcelona and he was at Manchester City in 2009, but that was a friendly.

...Yaya Toure...
"Liverpool are now my biggest rival because that's where he is now! I'm very happy for him, because now he's playing regular football and enjoying life under Brendan Rodgers, who's given him a lot of confidence -he's very happy there.
"It was difficult for him, but he was at the end of his contract at City and Liverpool was the best option."
However happy Yaya is to see his brother flourishing at the other end of the M62, the 30-year old will be putting family affairs aside for 90 minutes on Thursday.
The African Footballer of the Year doesn't think Brendan Rodgers' men will make it easy for the Blues but is confident that City's sublime home form gives them the edge.
"Liverpool are a fantastic club, the fans know football and it has such history - it's great for Kolo to be at a club with such a high level," Toure asserted.
"They are a top team but we have proved we can beat the best teams at our own stadium by playing great football and scoring goals.
"And that is the way we must approach this game as well. We are not the sort of team that is fearful of opponents, we are playing in an attractive way and an attacking way, and I think Liverpool will be aware of that.
"I just want to win and to do that, you have to go 100 per cent at all times. The most important thing is how the game finishes.

...Yaya Toure...
"Family and friendships are put aside because winning brings happiness to the team and the fans."
Meanwhile, on the other side of this friendly sibling rivalry, former City defender Kolo Toure is enjoying his fresh start with the Merseysiders.
Kolo made more than 100 appearances for the Blues over four seasons and helped the team to the FA Cup and their first league title in 44 years.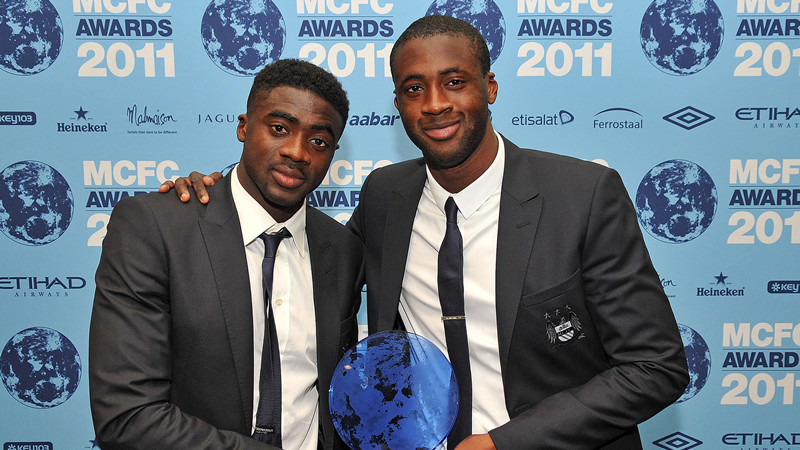 "It's going to be a massive game, Man City vs Liverpool is a big one in its own right and when you look at how close it is at the top of the league, it makes it even more important," the 32-year old argued.
"But it's also going to be a big game for our family. I guess we are going to see who has got the power!
"We are well aware that City are very strong at home and score a lot of goals but we've had a good first half of the season and we won't go into the game with any fear.

...Kolo Toure...
"I don't think there's that much between the two teams so whoever shows they want it more on the day will win.
"I just hope I'm the one smiling at the end of the game and not Yaya!"
---
Time will tell, but you can join us here on mcfc.co.uk on Boxing Day eve for live text and audio commentary in our Match Day Centre.
We'll also have post-match interviews, tunnel cam and match highlights right here after the main event.