Men's Team
1
Pellegrini: Nothing fortunate about Palace victory
Pellegrini
It's a perfect ten at the Etihad Stadium for Manuel Pellegrini in the Premier League this season so far.
Now City, for 24 hours at least, can look down on the rest of the division after a stunning December which has seen the Blues eat up Arsenal's six point lead at the summit.
Although they were well short of their glittering best in the 1-0 win over Crystal Palace, Pellegrini believes his side were good value for their tenth win in 11 games.
"No I don't think we were fortunate to win – one team wanted to pay for the 90 minutes, the other wanted to sit in front of their own goal," the Chilean asserted.
"It's impossible to play well 44 hours after the game against Liverpool, that's why it's so important to know how to win 1-0.

...Manuel Pellegrini...
"They were both very different games but we were absolutely sure that we weren't going to have an easy game today – it's very difficult to play against a team who doesn't want to play."
Edin Dzeko's goal in the 66th minute was the difference between the teams in a game where tired legs and mind were evident.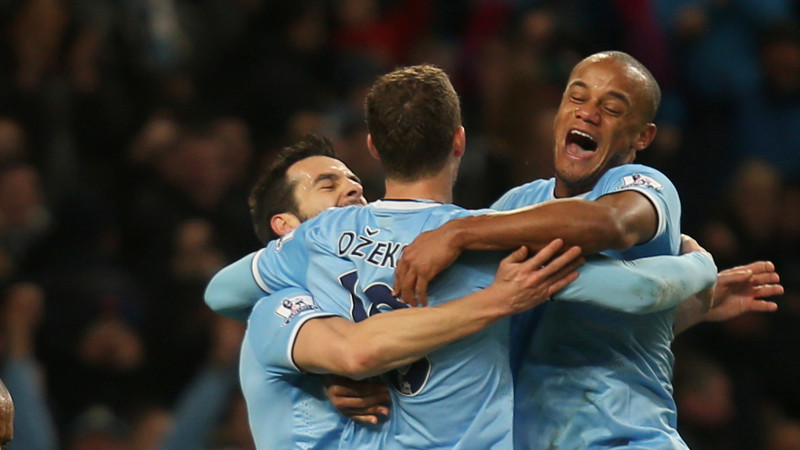 Pellegrini believes that it was inevitable his side would struggle to unpick a stubborn Palace defence but was pleased this his men got the job done and are fighting on four fronts going into 2014.
"Our team wasn't fresh enough to play against a team with ten players around the box," Manuel declared.
"I understand why they want to play like that because it's difficult to play against, especially when you're not so fresh.
"It's important that we have a team that can win 1-0.
"We don't know whether we lead the league for a day or longer but we are at the position we want to be – we are playing in all competitions.

...Manuel Pellegrini...
"In the Capital One Cup we're in the semi-final, we play in the FA Cup next week, we're in the last 16 of the Champions League and we're top of the league.
"Maybe eight games ago, nobody believed that we could make up the six points on Arsenal. We must continue in this way – this is just the first half of the season.
"The second half will be just the same, with five or six teams challenging for the title."
As for resolutions for the next year, Manuel only has one: "My only target for the New Year is to beat Swansea."
Pellegrini's Crystal Palace counterpart Tony Pulis was philosophical in defeat and delighted with his team's endeavour.
"It was always going to be a tough game, coming to City who are the form team in the league, it was always a tough task," Pulis argued.
But my players went about the game very well and we looked dangerous on the break.

...Tony Pulis...
"It's just finishing off the opportunities - everyone will talk about Joe Hart's save and it's a fantastic save.
"I'm just really pleased with the effort from my team today."