First Team News
1
Pellegrini refuses to blame individuals for Cardiff loss
manuel
Manuel Pellegrini refused to get too down about City's 3-2 defeat to Cardiff City on Sunday afternoon.
Just as the Chilean avoided superlatives after the opening day win over Newcastle, he chose not to react emphatically either way to this first loss of the 2013/14 season.
The Blues looked to be on their way to a comfortable victory after Edin Dzeko gave City the lead after 51 minutes but three Cardiff goals in 25 minutes turned the game on its head.
Pellegrini admitted that his team needed to defend better in these situations but stated his belief that the better team had lost.
"We played against a very difficult team," Pellegrini said, "they had ten players near their own box in the first-half and it was difficult for us to try to score.
"After we scored, we were better but two set pieces decided the match.
"I haven't seen the goal yet but defending set pieces is the job of the whole team. It doesn't matter who is guilty but to concede two goals from corners is too many.
"When we scored the first goal it could have been easy for us but it was very difficult.
"We didn't do a very good match but we didn't do bad. We were patient for the goal, we got it but then we were undone by two corners.
"Football is like that, we must concentrate in those situations and I think that although Cardiff won the match, we played better."

...Manuel Pellegrini...
"We lost because we didn't concentrate. We will work on this during the week."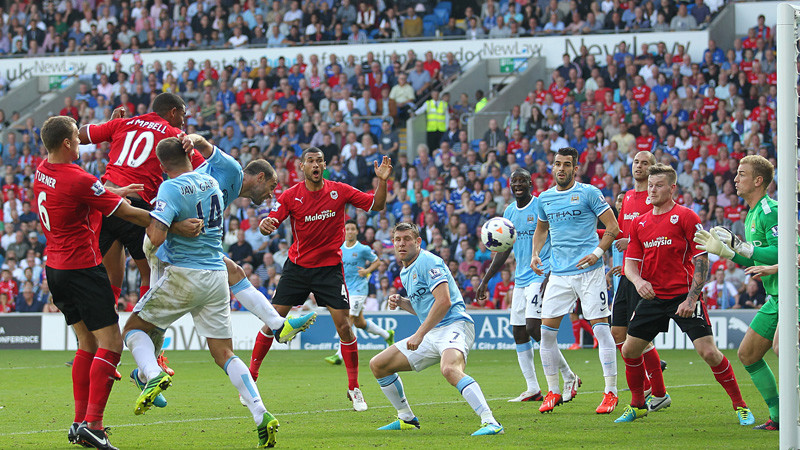 Javi Garcia was chosen to partner Joleon Lescott in the centre of defence in the absence of Matija Nastasic and Vincent Kompany.
The City boss laid no blame at either's door after the defeat and instead pointed to the two moments his team lost concentration as the cause.
"I don't think centre halves were a problem at all," he said.
"Cardiff are a very difficult team to play, they tried to play counter-attack and our defenders dealt with that. It was just two corners.
"We knew before we came here that Cardiff are a very good side, they didn't lose many games here last season. We came here to try and win but we didn't.
"Maybe we played a little slowly in the first 45 minutes because they were defending so deep and we had to be very accurate with our passes. Every match is different – I don't think we played very, very bad today to lose the match.
"There is no difference between the Premier League and La Liga in this - corners are the same in Europe and the rest of the world.
"We scored two goals and we had one or two other chances but the game was decided on two corners."