First Team News
1
Spurs v City: Connections part I
Barry
We take a look at the links between the two clubs ahead of Sunday's Premier League clash...
Paul Walsh
He's now probably best known to younger fans as a pundit on Sky's Soccer Saturday but between 1979 and 1996, Paul Walsh was feared by defences as a tenacious and pacey striker with a keen eye for goal.
Walsh played more games for Spurs than any other of his eight clubs, featuring in 128 games but towards the end of his career he enjoyed a successful Indian summer at Maine Road, netting 16 times in 53 appearances.
Clive Wilson
Wilson came through the youth ranks at City and was a key member of the Manchester City team that lost to Aston Villa in the 1980 Youth Cup final.
Clive went on to make 98 appearances for the Blues before they were relegated in 1987 when he joined Chelsea. He stayed in the capital and became a fan's favourite at QPR before joining Spurs in 1995 for a four-year spell where he played 70 times.
FA Cup comeback 2004
There was a famous meeting in the FA Cup back in 2004 when City were losing 3-0 and down to 10 men at half-time after Joey Barton was sent off.
What followed was one of the greatest comebacks in the competition's history, with City scoring four times in a breathless second half to go through 4-3.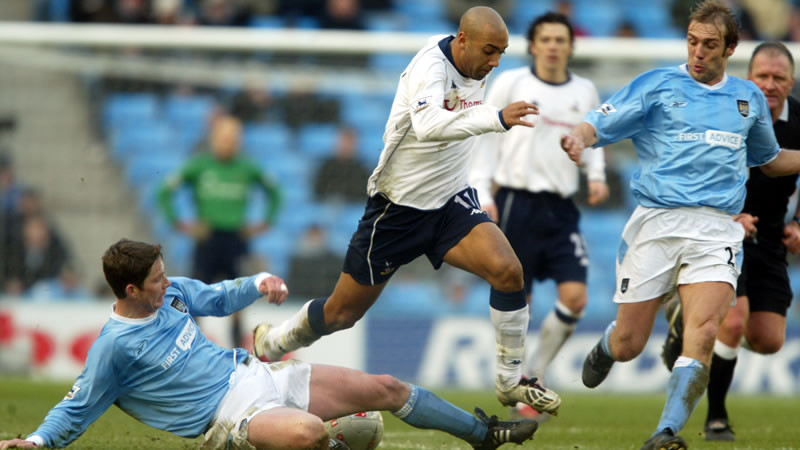 Peter Crouch
In May 2010, the Blues were denied a first season in the Champions League by a Crouch header in a 1-0 defeat at the City of Manchester Stadium but they were to have a poetic dose of revenge the following season.
Again the score was 1-0 at the Etihad Stadium in 2011 and once again it was Crouch who scored the game's only goal - except this time it was for City.
Bizarrely, the own goal was scored from almost exactly the same spot on the pitch he'd scored from a year earlier and the Blues qualified for the Champions League for the first time.
Emmanuel Adebayor
Togolese striker Emannuel Adebayor completed a permanent move to White Hart Lane from City last summer.
Adebayor made 34 appearances and scored 15 goals in a three-year stay at City, making his last appearance on 1 December 2010 against Red Bull Salzburg.
We'll have five more connections for you tomorrow - if you have any suggestions, head over to our official Twitter page and let us know!