First Team News
1
Silva still hopeful of making semi
David Silva hasn't completely ruled out making the FA Cup semi-final against Chelsea, though he admits the clock is ticking against him.
The Blues' playmaker was in superb form against Manchester United on Monday evening but pulled up with a tight hamstring in the closing stages and must be rated as doubtful for Sunday.
Silva, however, hasn't given up hope.
"I'm having tests today and we will see," he said. "The tests will confirm whether I will be able to play or not.
"I can still feel the injury so I have to wait to see what the tests show, but hopefully I will recover enough to travel with the squad.
It would be a big blow for me to miss the semi-final because it's a game every player wants to play in. If I can't play, there's always a strong replacement that can come in for me but let's see how things pan out

...David Silva...
If Silva does miss out, it will deny the millions around the world the opportunity to watch him go head-to-head with his international team-mate Juan Mata in a duel of two of the best play-makers in Europe.
"Mata is a great player, but Chelsea have a great team," said Silva. "That said, they have more than one player we have to worry about. It should be a great game."
David is already looking beyond the FA Cup and ahead to City returning stronger and more experienced in next season's title race.
The Spaniard admits the standards set in the 2-1 win over United must become the norm if the Blues are to ensure the title challenge is more sustained than it has been this campaign.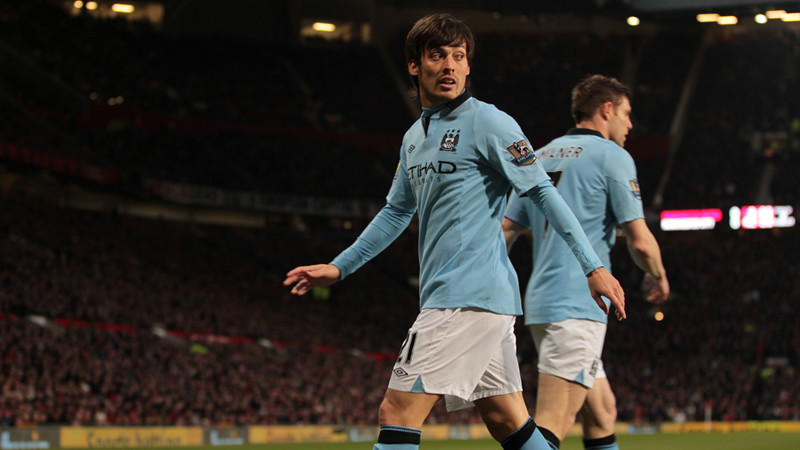 "To win the title next year we have to show the fight we showed at Old Trafford and also last year we had that little bit of luck at the right time. We haven't had much luck this year, but hopefully we will next time.
"United have done very well but we now have to concentrate on the teams coming from behind who are playing well and finish as strongly as we can this season.
I feel I've had a good season, again I feel we've not had the luck but there's still the FA Cup which I hope we can win

...Silva...
"We are growing every year as a club. With the new contract for Yaya for example, it shows how we're growing and building for the future and it's always exciting when we are linked with new players.
"Anyone who can come in to help the team to grow and get even better is all good for the club."
City are back in Premier League action on Wednesday against Wigan - get your tickets here.