EDS News
1
PSG v City EDS: Match preview
Juventus
PSG v City EDS (NextGen Series) Wednesday 28 November Stade Georges Lefevre Kick-off: 6pm
For those used to unforgiving Champions League campaigns, City Elite Development Squad's 3-2 defeat against Juventus at Hyde may have looked terminal for hopes of reaching the knockout rounds of the NextGen Series.
However, the Blues are still very much in contention for a place in the next stages, by virtue of the rule that dictates the best four teams finishing in third place in their groups will also qualify.
City can actually still catch Juventus in second place if they can secure a win away in Paris against group leaders PSG but have the safety net of being favourites to finish as one of the best third place teams with their five points from five games.

"I can't say anything about my guys because they gave everything," Lombardo said after the Juventus match.
"Juventus are a good team with good experience – obviously I'm not happy with the result but I am happy with that performance."
When compared to last year, it's a great return from City who didn't take a single point in 2011/12's punishing NextGen campaign and especially when you consider that the likes of Marcos Lopes, Jose Angel Pozo and Olivier Ntcham are playing against players up to three years their senior.
"Last season I only saw one match in the NextGen Series and even though the team was very different, it's a huge improvement from us with such young boys," Lombardo said.
"We played against a good team that cost a lot of money, with a lot of foreign players and I think that it's an important experience for us to play against quality teams like this.

...Attilio Lombardo...
"If there is a disappointment from the game, it's that we conceded from two set pieces – if we walk away and analyse the game we should probably not give these chances away so close to our goal."
Paris Saint Germain have already secured qualification for the next stage, so there is a chance that they will rotate their squad when City face them on Thursday.
If City are to emerge with anything in France, they will have to be wary of Nicolas Rajsel who scored twice when the sides met at Hyde in August.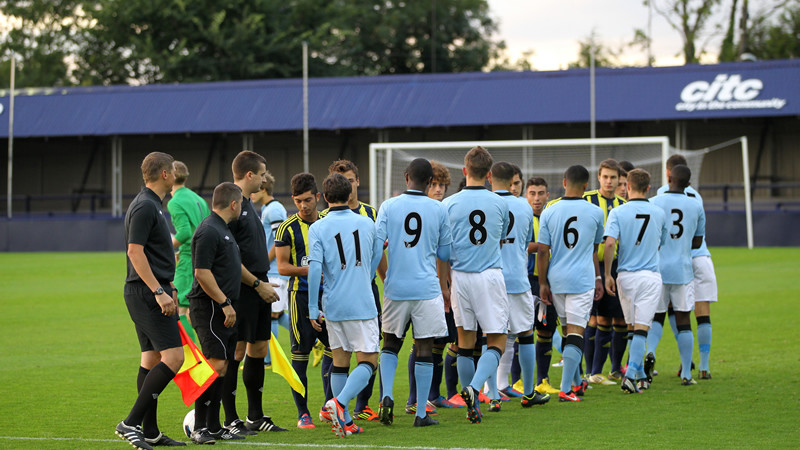 The Blues will be without Jordy Hiwula who looks set to be out for a large chunk of the season with injury but will be able to call upon the services of Marcos Lopes who has scored five goals for the EDS so far this season.
A very young squad has traveled for the game, including England youth international midfielder Kean Bryan who made his first appearance for City U18s at the weekend against Crystal Palace.
We'll keep you updated with how it's going in Paris on twitter.com/mcfc (between live updates on the first-team's game against Wigan) and have a report on mcfc.co.uk on Wednesday night.