EDS News
1
Premier League 2 fixtures released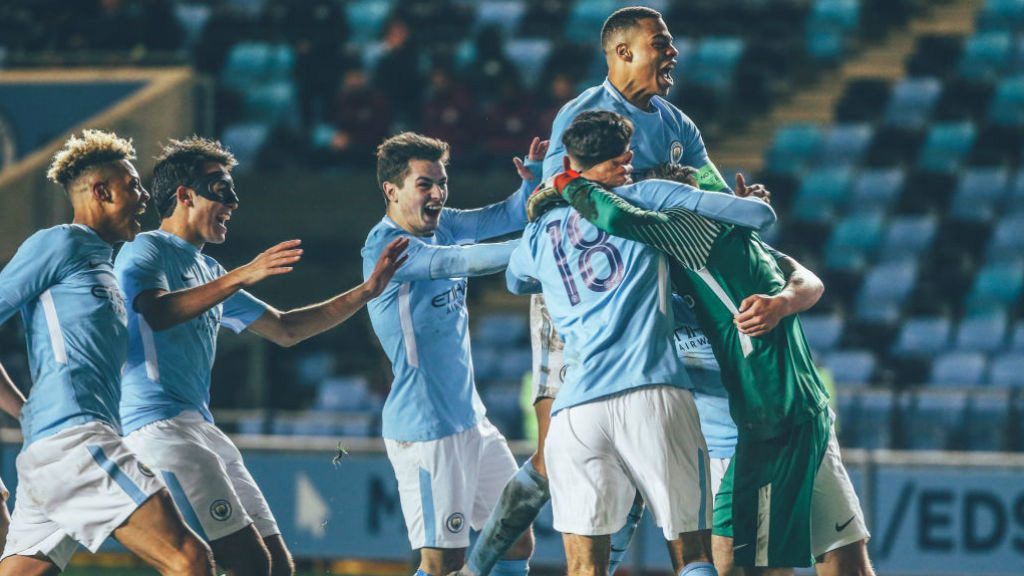 SQUAD GOALS: The EDS in action last season
Manchester City's EDS side will entertain last season's champions Arsenal in our Premier League 2 opener at the City Football Academy on August 11.
The fixture list has thrown up a challenging first match for new boss Paul Harsley as the latest crop of young Blues bid to build their experience.
Ahead of the season, Harsley told ManCity.com: "Rather than have a team of 21-year-olds, most of the EDS squad will be 17 or 18, so it's all about accelerating their learning, pushing them on, preparing them and exposing them to a bigger challenge at an earlier age.
"Hopefully we can get them in and around the first team or out on loan to get a different experience.
"It will certainly be a physical challenge for the players – and we know that - but it is the best thing for the players and their long-term development."
Have you seen?
Fixtures subject to change.

Sat 11/08/2018 13:00 Manchester City v Arsenal City Football Academy Division 1
Sun 19/08/2018 13:00 West Ham United v Manchester City Dagenham & Redbridge FC Division 1
Fri 24/08/2018 19:00 Manchester City v Liverpool Etihad Stadium Division 1
Fri 31/08/2018 19:00 Brighton & Hove Albion v Manchester City Checkatrade.com Stadium Division 1
Fri 14/09/2018 19:00 Tottenham Hotspur v Manchester City The Lamex Stadium Division 1
Sat 22/09/2018 13:00 Manchester City v Derby County City Football Academy Division 1
Mon 01/10/2018 19:00 Swansea City v Manchester City TBC Division 1
Sat 20/10/2018 13:00 Manchester City v Chelsea City Football Academy Division 1
Sun 28/10/2018 12:00 Everton v Manchester City TBC Division 1
Sat 03/11/2018 13:00 Manchester City v Blackburn Rovers City Football Academy Division 1
Fri 23/11/2018 19:00 Leicester City v Manchester City Holmes Park Division 1
Fri 07/12/2018 19:00 Derby County v Manchester City TBC Division 1
Sun 16/12/2018 13:00 Manchester City v Tottenham Hotspur City Football Academy Division 1
Mon 07/01/2019 19:00 Manchester City v West Ham United City Football Academy Division 1
Mon 14/01/2019 19:00 Arsenal v Manchester City Boreham Wood FC Division 1
Mon 04/02/2019 19:00 Liverpool v Manchester City TBC Division 1
Fri 15/02/2019 19:00 Manchester City v Brighton & Hove Albion City Football Academy Division 1
Fri 01/03/2019 19:00 Manchester City v Leicester City City Football Academy Division 1
Fri 08/03/2019 19:00 Chelsea v Manchester City Aldershot Town FC Division 1
Sun 07/04/2019 13:00 Manchester City v Everton City Football Academy Division 1
Mon 15/04/2019 19:00 Blackburn Rovers v Manchester City Ewood Park Division 1
Fri 26/04/2019 19:00 Manchester City v Swansea City City Football Academy Division 1