EDS News
1
Davies: We'll work even harder after UYL defeat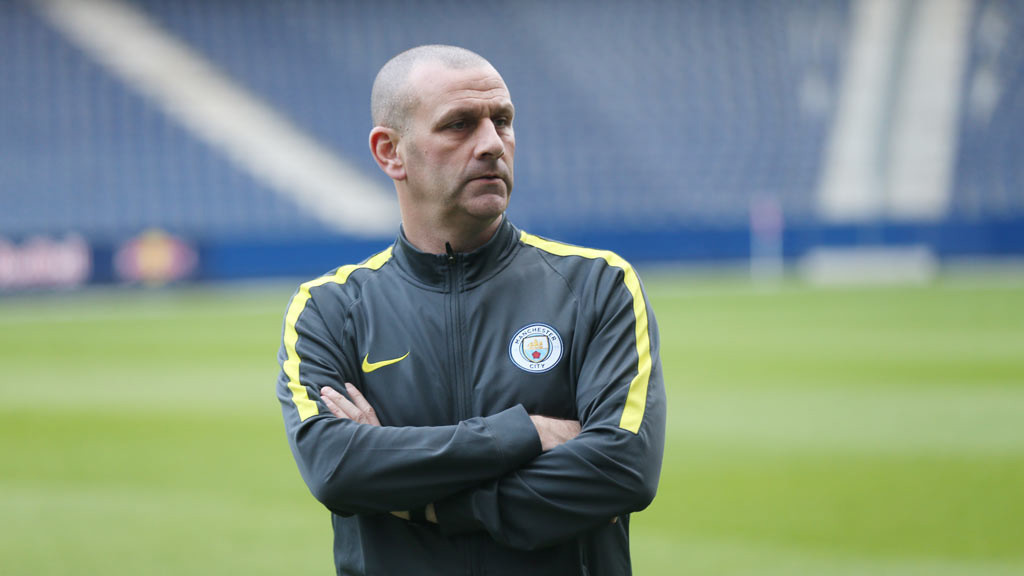 DAVIES: City's EDS boss at the Red Bull Arena in Salzburg
Manchester City EDS boss Simon Davies has vowed that his side will work even harder in the closing months of the season after they were knocked out of the UEFA Youth League.
City drew 1-1 with Red Bull Salzburg on Wednesday evening but were eliminated due to a 4-3 penalty shoot-out defeat.
Davies knows his side didn't perform to their capabilities in Austria but he believes there's a lot more to come from his side.
He said: "On the day we didn't play as well as we could have done. These things happen but from a young players' point of view dealing with the pressure and putting a performance on is key to having a future at this football club.
"Going out on penalties is never a nice way and it's always going to be cruel on someone at that point. Unfortunately for us we were the ones who suffered tonight but I thought it was a very good game. They played very well and probably caught us on a day when we weren't quite at our best.
"When you have disappointment in football you have to respond in the right way and we're going to work even harder to turn that around."
Want to keep up with the latest EDS and academy news? Follow the official Twitter account, @ManCityAcademy.
Davies did reserve special praise for City's goalkeeper Daniel Grimshaw, who kept his side in the tie with a string of impressive stops.
"They started off really brightly in both halves and we clawed our way back into it but it tells you a lot about the game when you see that our goalkeeper was the best player on the pitch," said Davies.
"Like most positions we have a lot of quality and it's a challenge for Daniel to keep Aro Muric and Kjetil Haug out. He took his opportunity really well tonight as he has done in a few games. He made the game competitive for us and he did brilliantly to keep us in there."
Manchester City's Premier League Cup side welcome Colchester United to the Academy Stadium on Sunday. Visit the ticket office for more information on how you can support our future.