EDS News
1
Davies: City reacted well after a low week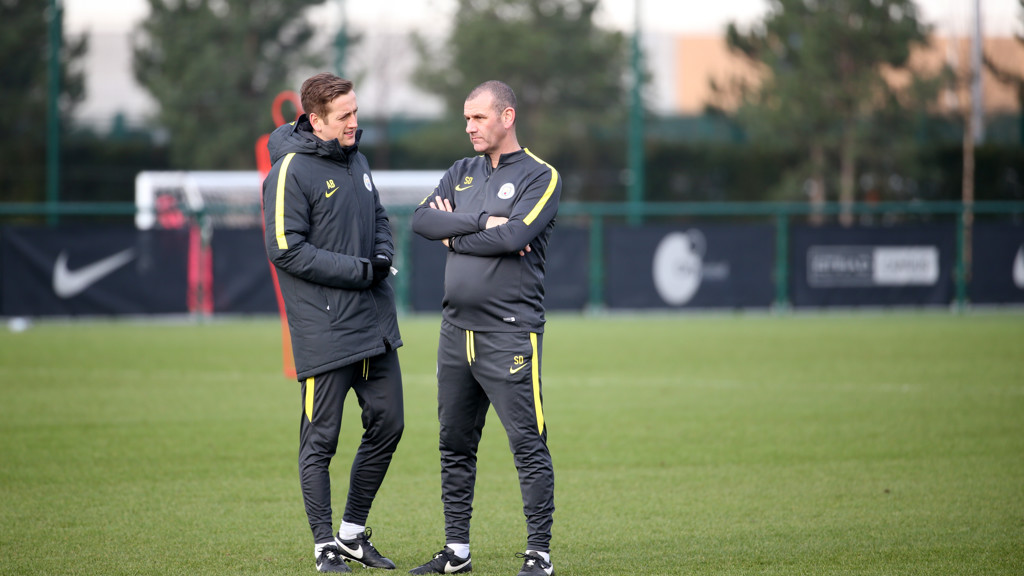 DAVIES: City's EDS boss watches over training at the City Football Academy
Manchester City EDS boss Simon Davies has praised his side for their response to this week's UEFA Youth League disappointment following victory over Colchester United.
Goals from Demeaco Duhaney and Isaac Buckley-Ricketts following an early own goal saw City to a 3-0 victory that kept their Premier League Cup hopes alive.
City fell to Salzburg on penalties on Wednesday and although Davies admits City weren't at their best that night, he has been delighted with the attitude of his players since.
He said: "It was a good reaction. We needed to bounce back from the disappointment of the performance in midweek and today we played a lot more passion and we moved the ball well, won and got a clean sheet.
"They're all the things we were looking in for in terms of a response from before the game. It's been a low week but I saw the disappointment in the lads and there is always a game around the corner to make it right and they took a big step to do that today."
City now have six points from five matches in the Group C of the Premier League Cup and will travel to Hull City in their final match requiring a victory to stand any chance of progressing.
"We want to achieve in all the competitions we go in and this competition has been an opportunity for some of the younger ones and some of the fringe players within the group but we want to extend that and we've still got a fighting chance of progressing from the group," said Davies.
"We've got one game left and we need to win that. If we can do that we'll just have to see where it takes us."
Manchester City's Premier League 2 side travel to Chelsea on Friday 17 January. Visit the ticket office for more information on how you can support our future.