EDS News
1
City PL2 v Leicester: Key battles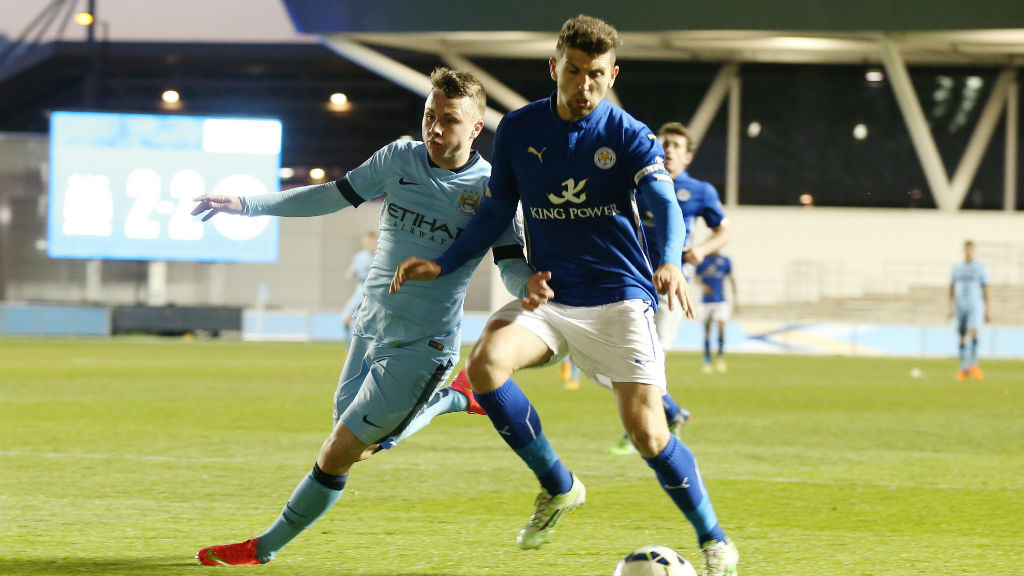 BATTLE: City and Leicester's Elite Development Squads tussle for the ball back in 2014
City's Premier League 2 side face Leicester City at the Etihad Stadium on Friday night but where will the match be decided?
With 10 points from their first five matches in the Premier League 2 competition, Simon Davies' side are full of confidence ahead of the Foxes' trip to Manchester.
The Blues will be looking to extend their unbeaten Etihad Stadium run having already seen off Arsenal 1-0 and drawn with Manchester United at the first team's home so far this season.
City are back in the Etihad Stadium on Friday night but who will be crucial to the outcome of the match?
Fernandes v Daniel Iversen
After not one but two wonder strikes in last week's victory over Sunderland, City's creative midfielder Paolo Fernandes will no doubt be looking to repeat the feat.
The Spaniard's efforts, one with each foot, stole the show in a thriller at the Stadium of Light and set the tone for an exciting performance from Simon Davies' Blues.
He'll have to pull something extra special out of the bag at the Etihad Stadium on Friday night if he is to beat Danish youth international Daniel Iversen.
The 19-year-old shot-stopper has represented his country at every youth level and there is hope in Denmark he could replicate the standards set by Leicester and Denmark's number one Kasper Schmeichel.
If Fernandes is to add another long range strike to his portfolio on Friday night, it will have to be a jaw-dropper.
Humphreys v Raul Uche
Cameron Humphreys has been an ever-present during the excellent early season form for the Blues. A composed centre-back comfortable when up against both physical and technical opponents, Humphreys is something of a leader in the team.
It's likely to be a mixed challenge on Friday night when Humphreys comes up against Spanish forward Raul Uche. The 18-year-old joined Leicester in the summer from Rayo Vallecano and has proved to be a goal threat for Steve Beaglehole's struggling side.
Uche's hard work fits the mould of first teamers Jamie Vardy and Shinji Okazaki so Humphreys will have to be on his guard if he is to keep the Spaniard at bay.
There will be plenty to look out for during City's Premier League 2 battle with Leicester City. Visit the ticket office for information on how you can support our future.