Intensity ratcheted up a couple of degrees along with the temperature on day two in Croatia for City EDS.
After an early night and a good breakfast, the squad were back out onto the training field at 10am for a physically demanding session under the scorching Croatian sun.
Conditioning was at the heart of the exercises led by Matt Cook and I can safely say that I didn't envy any of the boys as they were put through their paces.
Not that they were complaining, the attitude among the players is first-class and once a competitive element is introduced, they're extra fired-up to beat one another past the post.
Especially when there are press-up penalties for the last to finish.
It wasn't all gruelling sprints, pivots and core work, though – the hard graft is interspersed at regular intervals with ball contact time to ensure that there is cunning and craft to go with the muscle.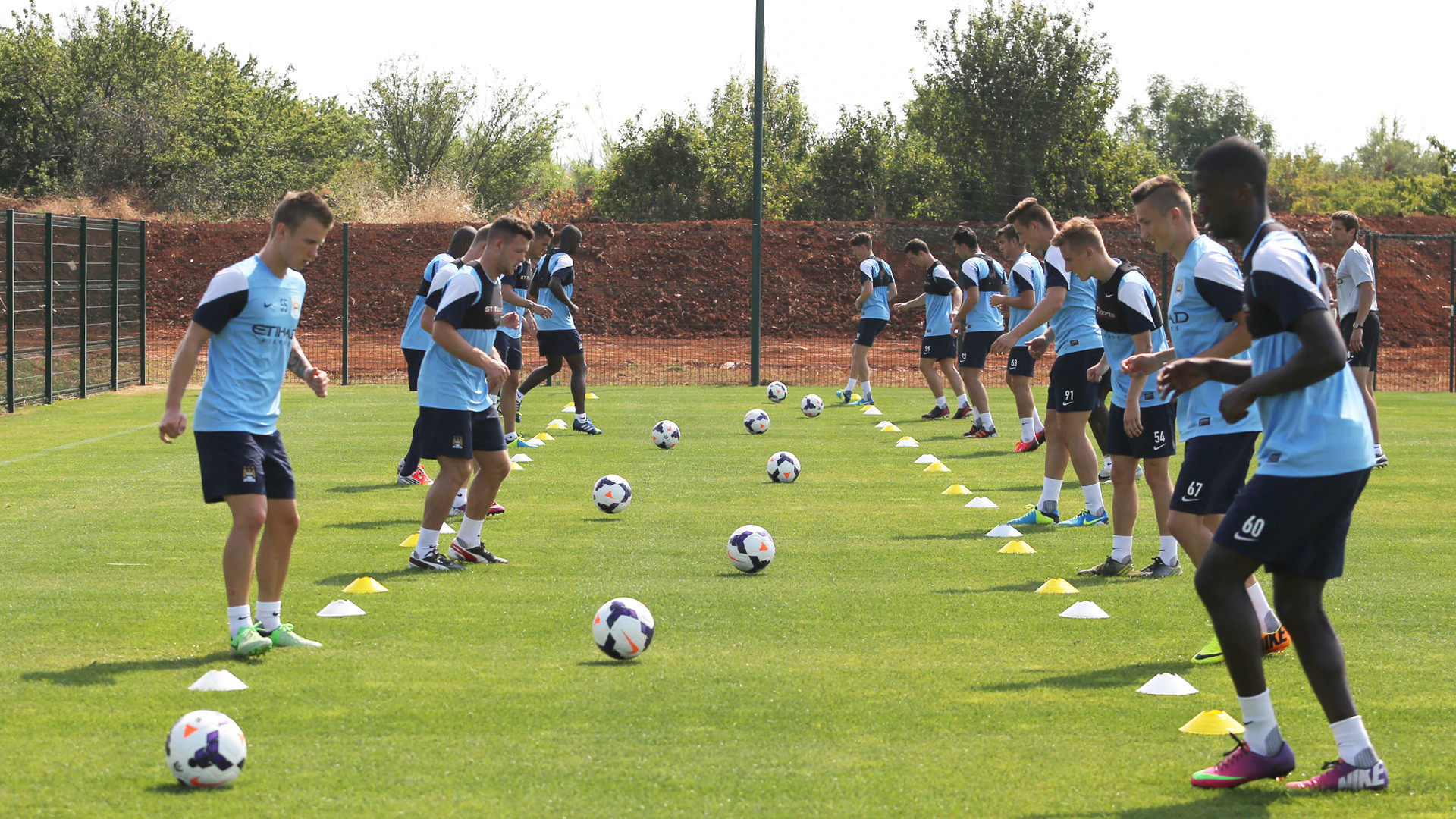 After a period of watching this exhausting work, I switched attention to the goalkeepers, Ian Lawlor and Angus Gunn, who were working under former Bolton keeper and now City EDS goalkeeping coach, Dave Felgate.
It was certainly no less strenuous over on that side of the training pitch as Gunn and Lawlor were put through "The Cross" – an intimidating gauntlet of short sprints and diving saves that left both close to the brink.
Credit to the duo though, they never complained, showing their incredible reserves of endurance and a healthy dose of gallows humour.
Felgate warned me that if I spent too much time over there he would be putting me through "The Cross" so I swiftly made my excuses and darted back to the outfielders who were divided into two teams with possession and pressure on the ball central to the exercise.
Patrick's assistant Simon Davies led this drill and it was a good opportunity to see the boys thinking their way out of tight spots and keeping the ball moving along the floor.
Finally for the morning session, the goalkeepers were called back and an 8 v 8 game was set up where the sharpness of this squad was on full display, leading to a couple of cracking goals, including this sweet strike from Adam Drury.
Drury benefited from a loan spell at Burton Albion at the back end of last season, helping them to the semi-finals of the League Two play-offs and he won't any trouble kicking on again this season on the evidence of that sublime effort.
Once training finished, we grabbed Jordi Hiwula and George Swan for a couple of interviews – both were great on camera and we look forward to sharing them with you in the coming days.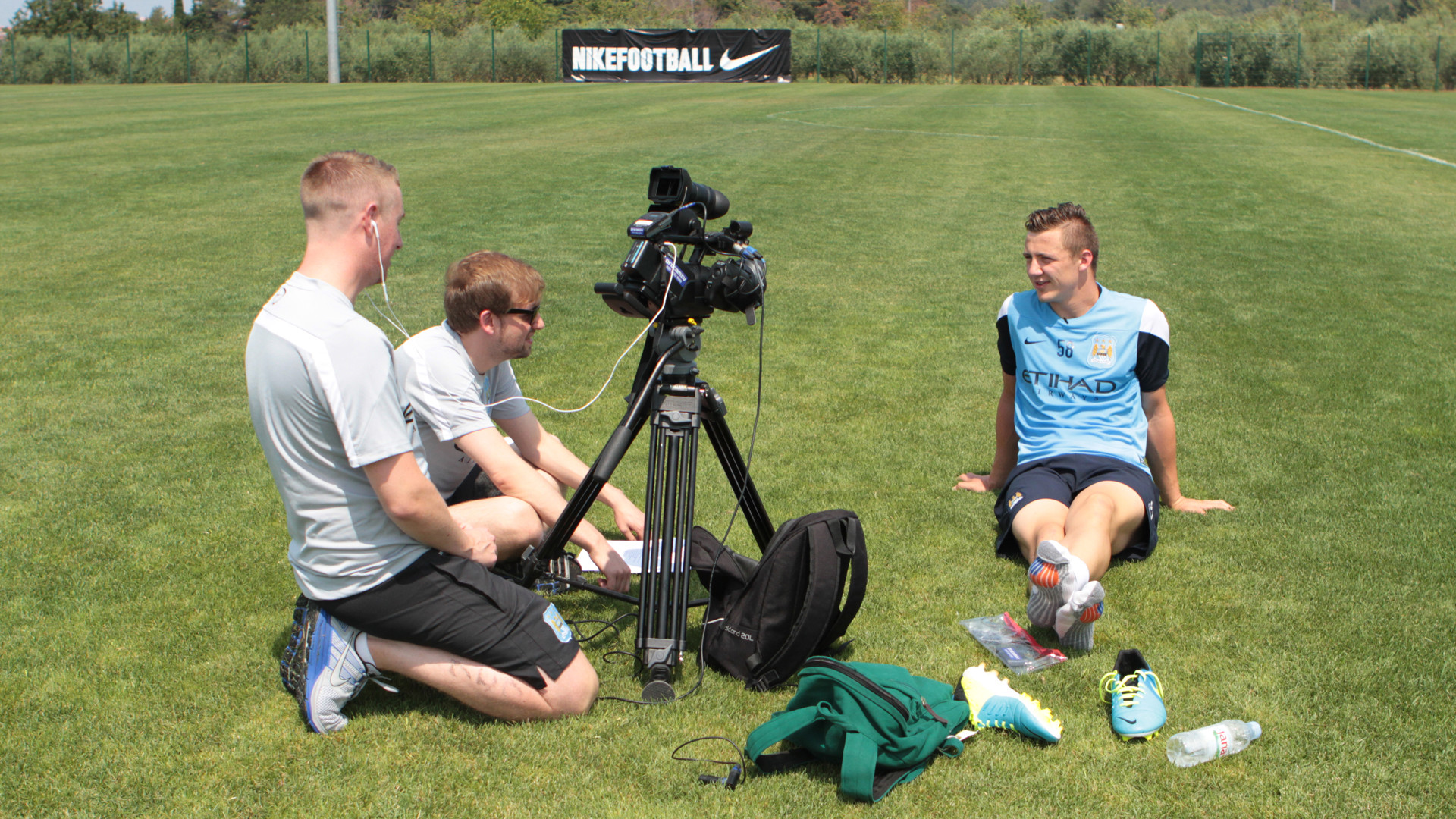 There was an afternoon session which included more ball and tactical work than in the morning but the intensity was still there as players strove to make a good first impression in front of their new manager.
Patrick and Simon Davies's regular pauses for observations during this section were fascinating and gave a real insight as to what a team is really trying to do when attempting to break down a defence.
I'm sure the coaching team won't want me to give anything concrete away but I can say that this EDS team is going to be worth fans following over the coming season if the dynamic and fluid approach is carried forward into match days.
Tonight the team will attend player workshops as part of their ongoing development and tomorrow some of the players will meet members of the Croatian media, as well as continue the rigorous pre-season training regime.
The first game is an in-house match between two City XIs on Saturday – we'll bring you a report and post-match interviews as the team prepare for their encounters with local opposition next week.