Shortly after posting day two's diary piece from the City EDS training camp, a night-long electrical storm dominated the skies.
It was an incredible spectacle as this natural pyrotechnic display took place overhead which was more dramatic and long-lasting than anything any of us had ever seen.
Giant forks of lightning lit up the night sky every couple of seconds as if someone was flicking switches on and off, leaving the tour party to grasp for cameras to take pictures and record videos which couldn't quite do justice.
Fortunately we had MCFC's own snapper extraordinaire Vicky Haydn in our ranks who captured the scene beautifully with this shot from the balcony.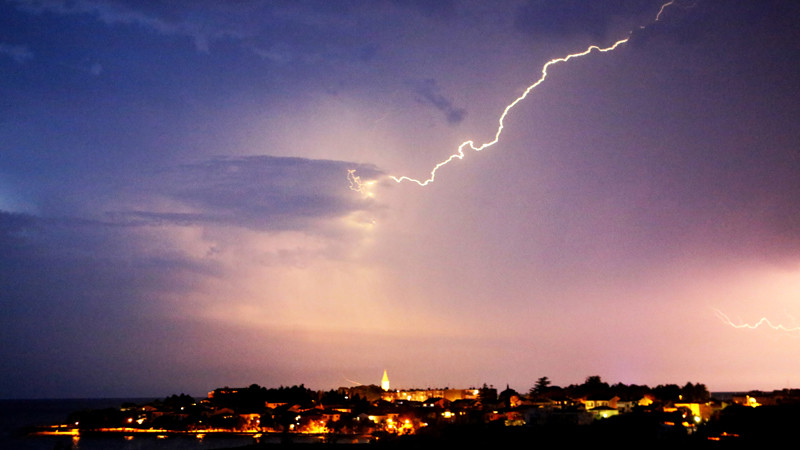 Some sight!
With the first match day of pre-season coming up fast for City EDS, day three was slightly more relaxed than yesterday's incredibly intense double session.
Members of the Croatian media were invited to the morning training and there were a couple of new faces in the squad ahead of tomorrow's game.
With Harry Bunn, Jordy Hiwula and George Swan still not quite ready to play in competitive games after knee injuries, opportunity knocked for Tosin Adarabioyo, Jack Byrne, Dom McHale, Brandon Barker, Jorge Intima and James Horsfield to swap training with the u19s for Patrick Vieira's EDS.
An important challenge in City's Academy in recent times has been for players to step up the age-groups and meet the physical and technical challenges that this presents and, on this evidence, that looks set to continue in Patrick's EDS regime.
It's difficult to imagine a situation which more clearly demonstrates that great opportunities have to be earned then seized, as the under-21s are clearly visible from the adjacent under-18s' pitch.
Patrick took half of the players on one side of the pitch for a finishing masterclass, which focused on build-up play, short, sharp incisive passes and the ancient art of putting the ball in the back of the net.
Ian Lawlor was having the best of it in goal until a few words of encouragement from Vieira helped the net start bulging as a regular occurrence.
Olivier Ntcham weighed in with a few eye-catching volleys and McHale (pictured above) impressed with a delightful outside of the foot volley which cannoned in off the crossbar.
On the other side of the pitch, Simon Davies was working through some shape work with the back four and defensive midfielders.
We put a P.O.V camera on Mathias Bossaerts for this session to capture his movements in the centre of defence which the Performance Analysis guys will use to feedback to the player and to the coaching staff.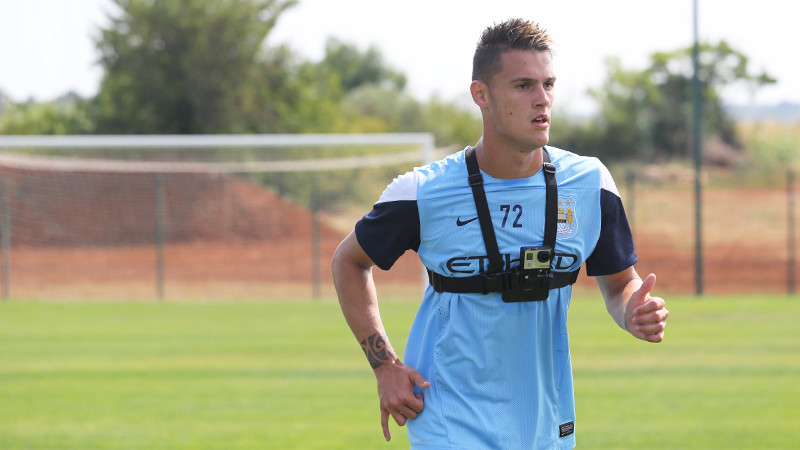 The amount of detail that goes into preparing a team at this level never ceases to amaze me and the passion all of the staff have for their roles is another reason I'm positive that these players are given the best possible chance of success in the game.
After training we sat down to interview Patrick for CityTV which was definitely the thing I was looking forward to most on this trip.
To get to sit down and talk football with one of the best players to ever grace English football was an honour and without spoiling the content of what he had to say, his passion for developing young players and his excitement at his new position shone through and made it an incredible experience that I'll never forget.
We also grabbed a couple of interviews with Harry Bunn and Alex Henshall afterwards who were both in great form before the squad were given downtime for the evening ahead of tomorrow's game.
It's an in-house game between two City XIs and very much in the "friendly" category but with competition for places already obviously a factor between the players, there's no doubt it will be a competitive, full-blooded affair.
We'll bring you a short report after the game to let you know how it went here on mcfc.co.uk.
One thing's for sure, City can't lose!