It's been a truly phenomenal campaign for Manchester City at all levels.
Carlos Borges' emphatic strike 16 minutes from time ensured that our Under-18s followed in the footsteps of our First Team and Elite Development Squad in being crowned champions of each of our respective Premier League divisions.
It has been an astonishing clean sweep, with Enzo Maresca's EDS first over the line, securing a maiden PL2 title in mid-April after Blackburn's 2-2 draw with Liverpool left City with an unassailable 10-point advantage.
PREMIER LEAGUE WINNERS | SHOP OUR CHAMPIONS RANGE
Manchester United's home defeat to Leicester on Tuesday evening then ensured that Pep Guardiola's men claimed a third Premier League title in four years.
And Carlos Vicens' Under-18s followed suit within 24 hours, grabbing the win we needed away to Burnley to claim top spot in the Under-18 Premier League North.
It has been a true collective effort across a memorable campaign, and below are some of the astonishing milestones that we have passed along the way…
Defensive record
It goes without saying that a cornerstone of any title-winning side is a watertight defence.
Therefore, it will come as no surprise to learn that each of our sides can boast one of the meanest backlines in our respective leagues.
Pep Guardiola's men and Carlos Vicens' Under-18s have each conceded the least amount of goals in the Premier League and Under 18 Premier League North respectively, whilst only Everton let in fewer than our EDS.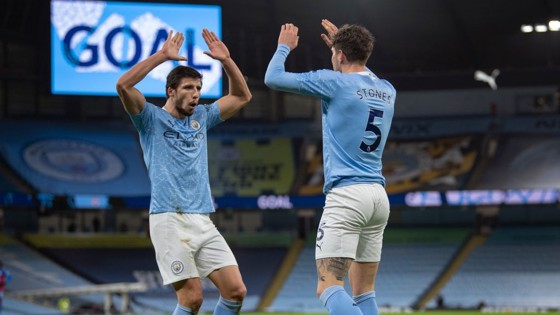 Indeed, across 83 domestic league games this season, City have astonishingly conceded just 75 goals in total.
And our clean sheet percentage adds further weight to the already compelling argument that our defensive acumen has been an essential factor in each of our title successes.
Overall, we have prevented the opposition from finding the back of the net on 36 occasions across the Premier League, Premier League 2 and Under-18 Premier League North campaigns.
That equates to a remarkable 43.37% of our domestic league matches this season.
Going for goal
Unsurprisingly, our statistics at the sharp end of the field are just as impressive, with each of our sides finding the back of the net with a remarkable regularity.
City have finished as top scorers in both the Premier League and Premier League 2 campaigns, while Carlos Vicens' Under-18s were just three goals off achieving that feat themselves as well.
Across each of our sides this season, we have notched up 227 goals in just 83 domestic league matches.
Based on this, whenever Pep Guardiola's men, our EDS or Under-18s have stepped across the white line in the Premier League, they have averaged more than 2.7 goals per game.
However, what is perhaps even more astonishing is the share of goals that City have achieved across the campaign.
Six players from each of our First Team and Under-18s sides have finished with over ten goals and assists in our respective league campaigns, while our EDS have also had five players achieve the same feat.
Turning from scorers to providers, Tommy Doyle (11) and Carlos Borges (16) have both finished with the most assists in PL2 and Under-18 Premier League respectively, while only Harry Kane has more to his name than Kevin De Bruyne's 11 in the Premier League.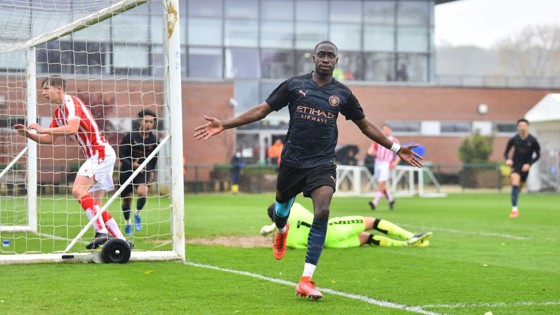 Teams win titles
In a recent CityTV interview previewing our Champions League semi-final clash with Paris Saint-Germain, defender Ruben Dias declared that individuals win games, but teams win titles.
And his words have proven to be prophetic when looking at the generous share of goal contributions that each of our title-winning sides can boast.
CITY+ | WATCH FULL-MATCH REPLAYS OF EVERY CITY GAME
In total, 49 different players have scored or assisted across each of our side's campaigns, with a breakdown of that total revealing a remarkable symmetry.
For Pep Guardiola's men, 17 different members of the squad have contributed going forward, while 16 players have each made the list for our EDS and Under-18s.
It is an astonishing figure which once against highlights the necessity of a hungry and talented squad focused on a collective ethos.