Romeo Lavia described winning both the Premier League 2 and the Under-18 Premier League North as 'amazing' after playing a pivotal role in both successes.
The midfielder has consistently played for both the Under-18s and the Elite Development Squad this season and has helped both sides secure their respected league titles.
PREMIER LEAGUE WINNERS | SHOP OUR CHAMPIONS RANGE
As a result, the 17-year-old was over the moon with his 2020/21 campaign. 
"I think you have to be prepared for any situation, and both teams have done incredibly well.
"To win two titles in one season is great, it's amazing so I'm really pleased."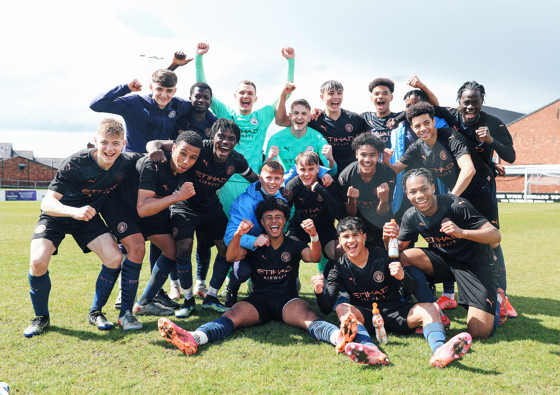 Our Under-18s were the final team to secure the league title, following both our EDS' and first team successes', and victory for our youngsters meant City became the first club to win all three Premier League titles in the same season.
The recent success has no doubt built a positive atmopshere around the football club, something that Lavia believes has helped him immensely.
"The atmosphere is so good, it is always going in a positive way.
"When you are living in the atmosphere you always want to be your best and you want to win games and of course titles."
Our Under-18s clinched the title thanks to a battling 1-0 win over Burnley, after Carlos Borges scored the all-important winning goal 15 minutes before full-time.
The victory was a hard-fought one for Carlos Vicens' team, after a resiliant Burnley witheld the relentless City attack for most of the afternoon.
However, the crucial goal did finally come courtesy of Borges, and Lavia believes this performance epitomises the team's hardworking attitude.
"It was a hard game, a real hard game.
"We stayed as a team, we didn't give up, we fought a lot and the in the end we scored.
Despite being just 17-years-old the midfielder has played as high as Under-23 level this campaign, and Lavia feels both playing for the Under-18s and making the step up to the EDS has helped him improve.
"I keep going and I am getting better I think. I am training with good players around me and I am enjoying it."