Enzo Maresca has said his team are ready to fight for the Premier League 2 title as City's Elite Development Squad enter the final seven games of the season.
Maresca and his side currently sit at the top of the Premier League table on 37 points, five clear of Blackburn Rovers in second place.
Speaking after his team extended their impressive unbeaten run to 11 games with a 5-0 win over West Ham, the EDS boss said his side are ready to fight for the title as we enter the business end of the season.
CITY+ | SIGN UP TO WATCH EXCLUSIVE CONTENT
"We now have seven more games and have five points [ahead of Blackburn] and we are going to try an be there at the end and fight for the title."
Since it's renaming and formation in 2016, City are yet to win the Premier League 2 title, with our best finish coming in it's maiden 2016/17 season where we finished second behind winners, Everton.
As a result, Maresca believes if his side were able to get over the winning line this term, it would be a great achievement for the whole club.
"I think it is something good for everyone here as it would be the first [Premier League 2 title] for the club as well."
Since joining the club last summer, the Italian outlined his key aims were to develop the young talent within his team, and sees winning as a key component in this development.
"I said from the beginning when I joined the club, I think it is good to develop our players but it's also good that at the end of every game it is of course always important to win."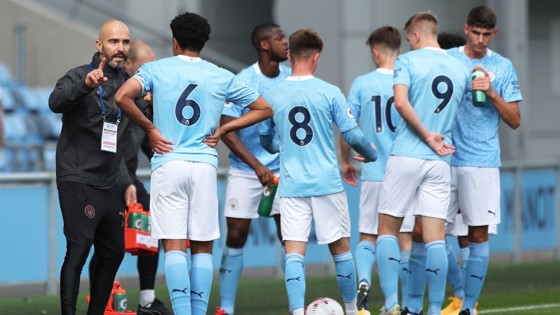 Despite heading into the final stages of the season with a healthy five-point advantage at the top, Maresca will not be looking to take his foot off the gas, and will look to fight until the very end of the campaign.
"It [the league title] is something we will try and win and we will try until the end."
Our EDS return to Premier League 2 action on Monday 15 March against Southampton at the Academy Stadium, and is available to watch on City+.
CITY+ is available across all digital platforms - mancity.com, Man City app and Smart TV – and provides unrivalled access to new and exclusive City content.
It will allow you to watch full match replays of all men's and women's matches 24 hours after the final whistle and original CityTV productions.
You can sign up to a 30-day free trial, after which CITY+ is just £1.99GBP / month.