Enzo Maresca revealed he is proud of his title-winning Elite Development Squad, following City's 4-1 victory over Tottenham Hotspur at the Academy Stadium.
City marked their Premier League 2 coronatation with a win thanks to goals from Tommy Doyle, Ben Knight, Liam Delap and James McAtee.
The victory also extended the City youngsters' unbeaten run to an impressive 17 games, and also ensured we remained unbeaten at home throughout the whole of the 2020/21 season.
As a result, Maresca could not have been prouder of his record-breaking, title winning side following their trophy lift.
"We are also proud of them because they know that even if they win, you need to show the right attitude and the way you want to play, always.
"You can see that they enjoyed the moment at the end so it is important. Absolutely [I am proud]."
After a number of key EDS players including Tommy Doyle, Cole Palmer, Liam Delap and Claudio Gomes were called up to first team duties throughout the season, Maresca believed his large and competative squad played a huge role in clinching the title.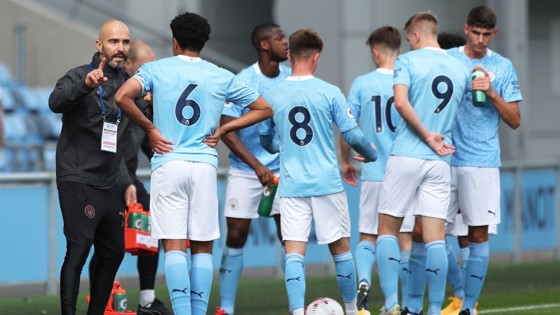 "I always repeat the same because it is true, when you want to win something and you want to achieve something you need 20 players.
"They are always ready when you give them the chance and all season this has been the same concept."
As well as the EDS securing their league triumph, our men's team, women's team and Under-18s are all still in the hunt for their respected league titles, and Maresca believes this positivity around the football club only benefited his side throughout the campaign.
"It helps a lot [when all our teams are fighting for titles]. It is about trying to win, trying to play good football and at the end I think we tried this in every game.
"Sometimes it was better, sometimes it was worse, but it is part of the process."
Maresca's side secured the league title without kicking a ball last week after Blackburn Rovers were held to a 2-2 draw by Liverpool, meaning Rovers were unable to catch the City youngsters with three games to go.
Despite already having the league wrapped up, the EDS boss has been pleased with the professionalism his side have shown, after winning their previous two games as champions.
"This is one of the motivations. That is why we are also proud of them because they know that even if they win, you need to show the right attitude and the way you want to play, always.
"I think against West Ham we did that but probably not in our best way, tonight I think the first half was very good and the second half not so good."
Our road to the league crown has been a remarkable one, as the youngsters have now not lost a Premier League 2 game in just under six months, with our last defeat coming in a 5-2 loss away at Southampton in November.
As a result, Maresca sees the defeat away at the Saints, and the turn of the New Year as two real turning points in City's season.
"The last defeat was the Southampton game. I think it was back in November. The change has been after Christmas.
"Since we restarted the season then, the team showed a different way to defend, more aggressive and we changed something in the way we press."
Our first Premier League 2 title also comes in Maresca's first season in charge of the City youngsters, and the EDS boss reflected on his hugely successful maiden year at the club.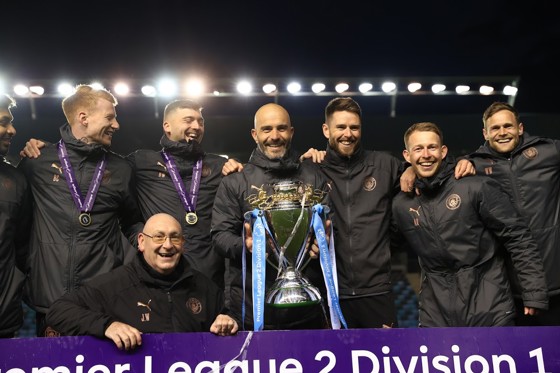 "Fantastic. The experience coaching has been great and to also be close to the first-team and to have the chance to learn is very important."