Manchester City's Elite Development Squad boss Brian Barry-Murphy couldn't fault his players' efforts despite our 3-1 UEFA Youth League defeat to Paris Saint-Germain.
A brace from winger Djeidi Gassama and strike on the counter from Wilson Odobert were enough to earn the Parisians all three points at the Academy Stadium.
Rico Lewis grabbed a late consolation, but it was to no avail, as City bowed out of the competition at the group stages.
And while Barry-Murphy feels we were ultimately punished by the visitors' danger on the break, he was full of admiration for the players' desire and determination across the 90 minutes.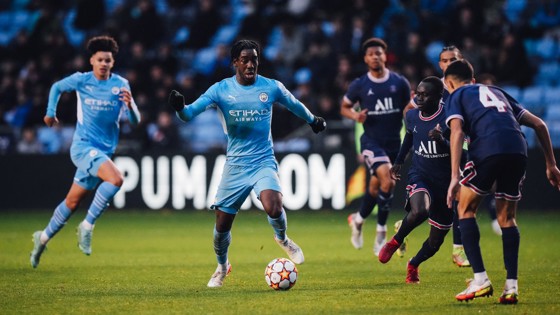 "We started off reasonably well and had good spells in possession. I think PSG were very content to sit and try to counter because they're so potent on it," the EDS boss reflected.
"In those situations, if our attacking play isn't precise or clinical, the number of attacks you have to defend is more than you want and they're dangerous.
"That was the theme of the first half and once they got the goal it had an even greater bearing on how the game developed.
"Our lads gave everything right until the end, but it was a difficult game for us.
"Throughout my career you can see some real magic moments in the difficult times, and I still saw at the end some really creative attacking play and incisive movement which was encouraging.
"We attacked right to the end, the challenge is always when the score is what it was, you want to go and score a goal but you realise the opponents' greatest strength is the moment you go forward, they can break.
"There's no embarrassment for me in terms of the score but there's obviously disappointment in terms of the result for the whole group and myself at the forefront of that."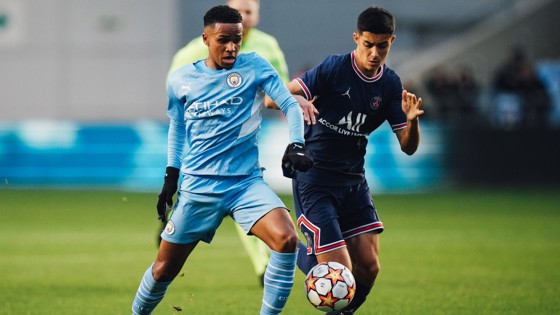 Although Barry-Murphy is disappointed that City's UEFA Youth League campaign will come to an end after our final group game against RB Leipzig, he believes it has been an invaluable experience for his team.
And the EDS boss has called for his players to go out on a high when we travel to Germany to face Die Roten Bullen in two weeks' time.
He said: "If I'm being honest, I've loved every moment of it (City's UYL campaign) and from the very start the expectation of the players themselves, you could (also) sense that.
"Whenever that comes to an end it's disappointing. I've been speaking a lot about how important it was that we kept going right till the end.
TAKE ADVANTAGE OF OUR BLACK FRIDAY OFFERS
"And you can see the real seeds of some very important careers starting to form in that situation.
"That'll be the same against Leipzig, that'll be a very important game for us in terms of how we approach it and how we play."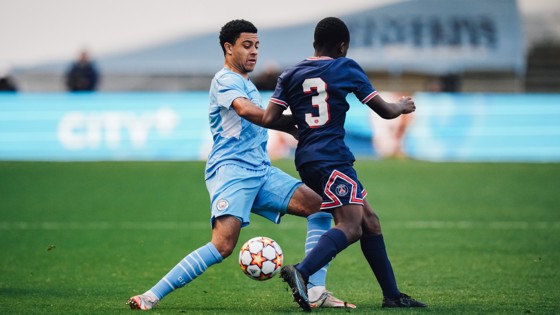 Next up for Manchester City's EDS is a Premier League 2 clash at home to Leeds United, with the match being broadcast live on CITY+.
Kick-off is scheduled for 19:00 (UK) on Monday 29 November, with the live broadcast starting five minutes before the action gets underway.
A CITY+ subscription costs just £1.99 per month and entitles the payer to full-match replays of all Men's, Women's and selected EDS & Academy fixtures, as well as selected live streams of matches.
It also grants access to original features and documentaries such as the upcoming three-part series about our Brazilian goalkeeper, Ederson.
For more information on how to sign-up, click here.