Community News
1
Freddie bowls over generous Blues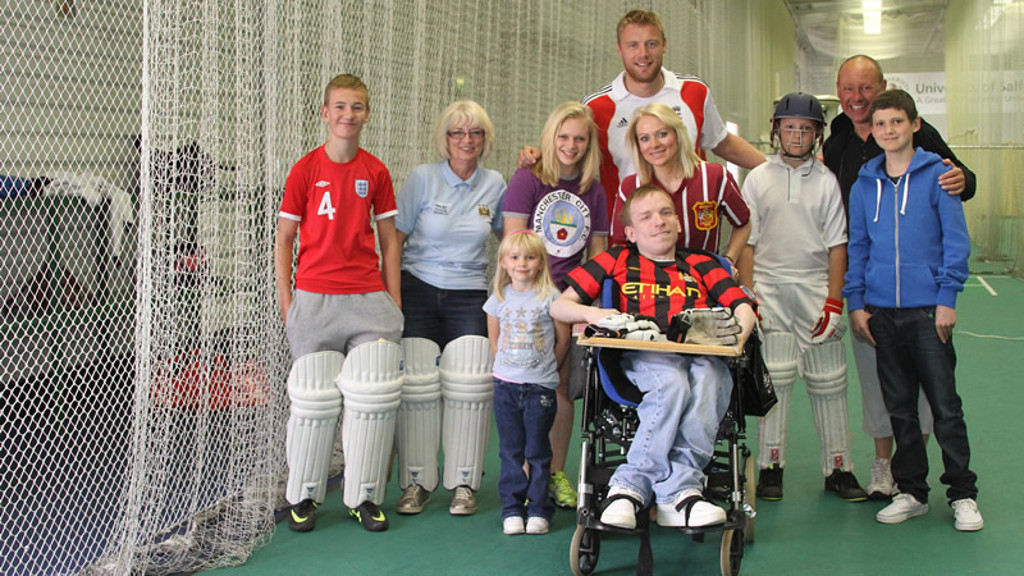 Freddie Flintoff2
A family of City fans were hit for six by the one and only Andrew "Freddie" Flintoff this week.
The popular former England and Lancashire all-rounder called into his former stamping ground at Old Trafford to meet Helen Quinn, whose daughter Vicki Myers put in the highest bid to win the "Freddie Flintoff Experience" at last May's end-of-season player awards.
Not only did the prize include being coached by the great man, but Lancashire CCC also kindly donated hospitality to Wednesday's T20 international between England and India.
Plucky Helen, a lifelong Blue as well as a huge cricket fan, padded up and faced a Merlin bowling machine manned by fellow City fan Freddie before stepping aside for younger members of her family and friends, who each had a one-on-one session in Lancashire's indoor nets.
"It was fabulous, great, and I finally hit one!" laughed Helen.  "So I can honestly say I've hit a ball off the bowling of Andrew Flintoff. I thoroughly enjoyed the day, Andy was brilliant with us and it was a great day for all my family."
Freddie was back in familiar surroundings at the indoor nets, and he enjoyed a rare foray into the world of coaching following his retirement as a player.
He said: "I spent hours and hours in here, contrary to popular belief - I did used to practice! It's nice to be around it again, seeing some familiar faces and doing a bit of coaching.
"I'm not sure I'm someone the kids should be listening to, but I did some coaching badges when I was younger and my philosophy for the kids is that I just want them to enjoy it."
Paul Lake, City In The Community's ambassador, also dropped in to meet the family, with the money raised from the prize auction having gone to the Club's City Giving nominated charities.
He said: "Freddie was so good with our auction winners. He set the machine at the right speed for them, and gave the right tips on moving your feet and getting your elbow up - all the stuff I'm learning as well!
"He has a fantastic manner with everybody, he made everyone feel so welcome and he was the absolute star that we know he is. And that he had a City shirt on as well made it the complete morning!"