Community News
1
Man City support disabled access campaign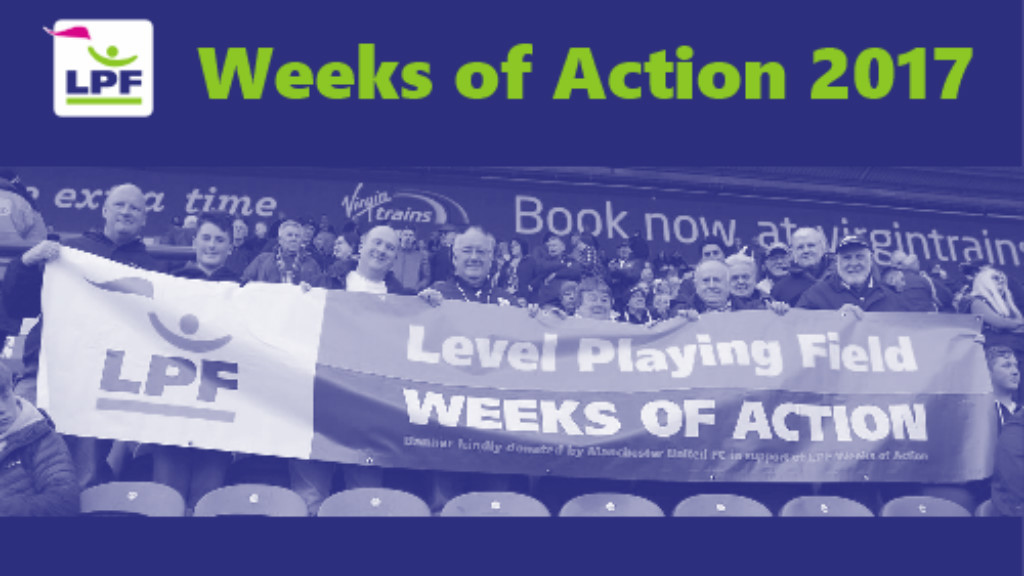 ACTION: Manchester City is again supporter Level Playing Field's Weeks of Action.
Manchester City will champion our disabled fans over the coming month as we once again proudly support Level Playing Field's (LPF) Weeks of Action.
The Club is delighted to continue to back this campaign, which aims to inspire change and celebrate those who make a difference to the enjoyment and experience of disabled sports fans.
Last month, the Etihad Stadium hosted LPF's first ever North West Regional Forum and we have a number of activities lined over the coming weeks to put disability football in the spotlight.
City in the Community will be showcasing its award winning disability football programme and we'll hear from Jamie Tregaskiss, an inspirational amputee player who's one of the project's leading lights.
Audio commentary has been a feature of City matchdays since 1995, providing a specific service for blind and partially sighted supporters.
As part of the Weeks of Action, we'll meet the present day team responsible for this service, who relay the match action to fans in all areas of the Etihad Stadium via radio headsets, which the Club loan out on a seasonal or match by match basis.
Manchester City Disabled Supporters Association (MCDSA), has played an important role in developing accessibility at the Club since 1999 and member, Mark Barber is pleased to have the opportunity to show their support for this campaign.
"MCDSA is proud to be a member of Level Playing Field (LPF)", he said.
"They are the national disabled supporters charity and provide us with excellent support in dealing with access issues for our disabled supporters attending games home or away.
"Their hard work supports our dedication to ensure disabled supporters are fully included in the match day experience and are able to come together to support the club they love.
"The LPF weeks of Action is a focal point to raise awareness of the work they do and is fully backed by everyone within MCDSA"
This year's Disabled Access day falls within the LPF Weeks of Action and in amongst all the other activity we will be celebrating this with specialist schools in Manchester.
For Manchester City's Disability Access Officer Dan Lovesey, this is another opportunity to showcase and build upon the continued efforts to improve accessibility at the Club.
"The Club is committed to developing accessibility across all areas of the business," he added.
"Over the past 12 months, we have seen the introduction of a dedicated Access Team, the installation of the Changing Places Facility in the Etihad Stadium and an access survey sent to all fans to monitor and review our activity.
"We are proud of the developments to our match day commentary service and we've just extended the service to cover our Academy Stadium fixtures."
For more information about the audio commentary service, please contact the Manchester City Access Team, through disabledtickets@mancity.com or through the dedicated access line +44 (0)161 444 1894 (option 1, option 1, option 1).