Community News
1
CITC and Hopwood Hall team up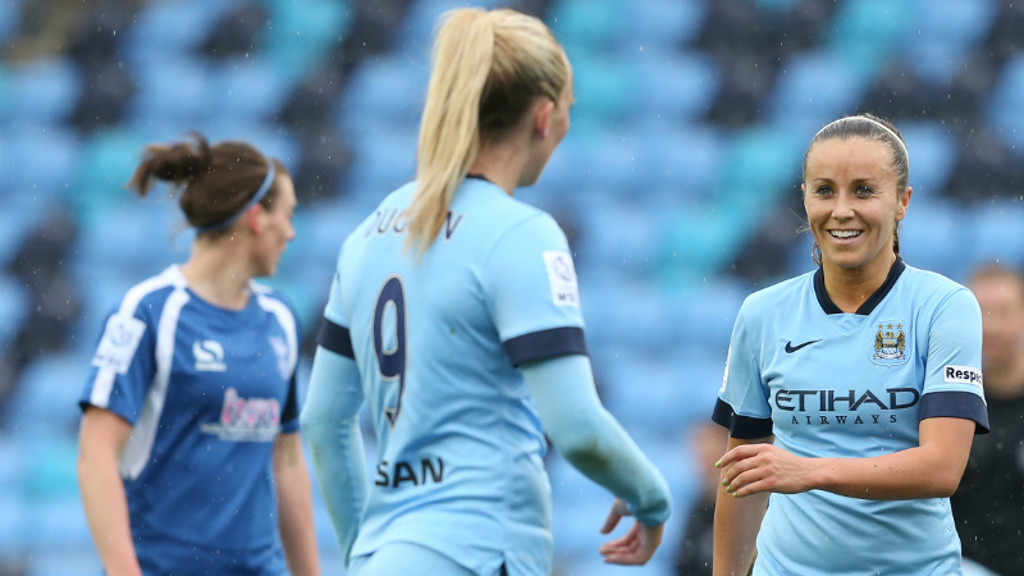 Hot on the heels of England's success in reaching the semi-final of the Women's World Cup, City in the Community and Hopwood Hall are offering young women a unique opportunity to achieve their Level 3 Extended Diploma in Sport at Manchester City Football Club's state-of-the-art training and educational facilities.
The two year qualification is equivalent to 3 A-Levels and will be delivered at Hopwood Hall College and across the Etihad Campus from September 2015. This new course will complement City's existing programmes including their girl's only soccer schools which run every half term, as well as their junior academy, Manchester City Girl's Football Club.
Students enrolled in the programme will be coached by fully qualified CITC coaches, with a minimum UEFA B coaching qualification, and be able to take advantage of a range of sport and educational opportunities including:
15 hours of learning each week,
3 weekly 2 hour coaching sessions, and
Weekly matches against other colleges and local teams every Wednesday.
Peter Tickle, City in the Community's Health and Education Manager, explained:
"Interest in women's football continues to grow especially with the Lionesses, five of which are Manchester City Women's players, doing so well at the World Cup. The Girls Level 3 BTEC Diploma in Sport provides an unparalleled opportunity to access the unique learning environment that is split across Hopwood Hall's educational facilities and the world class Etihad Campus, which is home to the City Football Academy and the iconic Etihad Stadium.
"Enrolling on this course can help to reach their full potential with the support and dedication of highly trained teachers and coaches. City in the Community is proud to be a part of such a ground-breaking course and we look forward to welcoming our new students in September."
Terry Morley, Centre Director for Sport and Public Services at Hopwood Hall College added: "This is a fantastic opportunity for young players to learn about the sport and get to play in competitive leagues at the same time. We're bringing together top class coaching with top class education – there is no better time to think about a career in football."
To register you must be 16-18 years old and hold a minimum of 4 GCSE's, including English and Maths, at grade C or higher. A keen interest in football training and coaching is essential.
There is a drop in open evening for anyone interested in trying out for the team on Wednesday 22nd July at the City Football Academy. The course and training will start in September 2015.
For more details please contact Peter Tickle at peter.tickle@cityfootball.com or visit hopwood.ac.uk