Community News
1
CITC receive new funding for their One City disability programme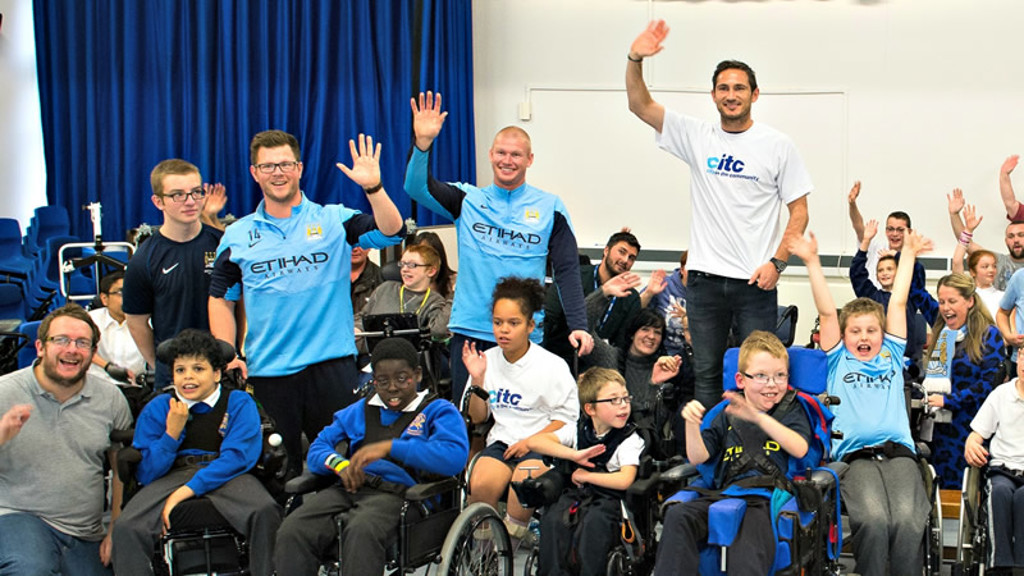 City in the Community are proud to announce it is enhancing its disability sport provision for young people in Manchester, thanks to the support from BT Sport's The Supporters Club and the Premier League.
Marking the announcement, our newest addition, midfielder Frank Lampard took part in a special documentary feature on the work of City in the Community for BT Sport which is available here.
In the film, former England player Lampard took part in a wheelchair football coaching session and met a group of inspiring participants who've taken part in the sessions for the past three years.
The "One City" initiative will work with 1,000 young people with disabilities, providing them with free access to football provision.
Other activities it'll fund will include a schools programme delivered to specialist support schools in Manchester, powerchair football and disability awareness courses aimed at breaking down barriers when it comes to the subject of disability.
Having recently recruited an apprentice who'll help deliver the sessions, the project will also engage with ten disabled volunteers per year.
The Supporters Club and the Premier League are forming a partnership that aims to provide funding to strong, innovative, social change programmes delivered by Premier League clubs/community projects focused on improving the lives of young people.
Lampard said: "It's been a real privilege to see first-hand one of the invaluable programmes City in the Community is delivering in Manchester.
"Seeing the smiles on the faces of the young people is a true testament to the impact they are having."
Mike Green, Head of City in the Community, said: "Manchester City is committed to promoting equality of opportunity, diversity and respect across all its activities.
"We are passionate about empowering lives through football; providing opportunities for all is a big part of the work we do every day in Manchester.
"This funding will allow us to not only enhance our disability sport provision but engage with even more local people."
The Supporters Club has raised over £3 million from BT Sport customers and BT since it was launched in June 2013.
This has been used to fund 19 sport-inspired community projects – ten in the UK and nine overseas, with over 90,000 people now signed up to the initiative.