Community News
1
City host Premier League Schools tournament
With 40 schools and 320 children competing in this week's ninth Premier League Schools Tournament, not everyone was going to come away from the Etihad Stadium with a winners' medal.
But whether a team won the final or did not make it out of the group stages, teachers, coaches and parents were united in praising the impact that this event had on the children who played.
The school teams, Under-11 mixed and Under-13 girls, had secured a significant achievement by coming through regional qualifiers for the right to represent their Premier League clubs at the Schools Tournament. There were a record number of entries this year, with more than 10,000 boys and girls from more than 1,300 schools taking part in the qualifying events.
Their reward for qualifying was an experience that gave the players a taste of life as a Premier League footballer at the Etihad Stadium.
Hosted by City in the Community and the Premier League, the youngsters opened the tournament by coming out of the tunnel to the infamous Premier League anthem. Manchester City captain Vincent Kompany recorded a special message for the players as they walked out.
They then got the opportunity to visit the City dressing room and have their photo taken next to the Barclays Premier League trophy as well as taking part in City in the Community inflatables, Match Attax, golf and shooting activities on the stadium concourse.
Christ the King Primary School showed their resilience in the U11 Mixed tournament and Barlow High RC High School showed their team spirit in the U13 girls. Despite not making the overall final, both MCFC teams played beautiful football. All Saints Catholic High School, representing Everton, and Liverpool's Plantation Primary won the Under-13 girls and Under-11 mixed competitions respectively after a day of competitive action.
The trophies were presented by our very own Steph Houghton and legend Mike Summerbee, who were both delighted to have been a part of the event.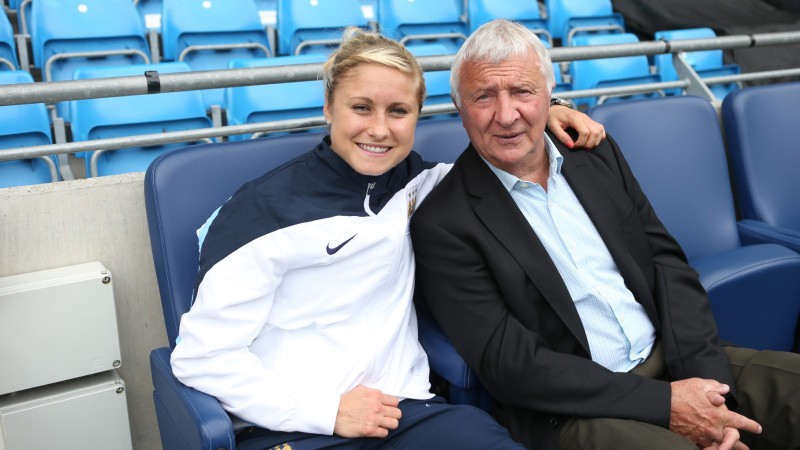 "It's really important that we support these kinds of events," Steph said. "It's a great opportunity for kids to get involved in football and it's a great honour for them to represent their Premier League club.
"The kids have had fun. I was really impressed with the standard of football of both the girls and boys. I didn't have that many opportunities when I was younger to come to tournaments like this but now it's the norm for the girls. To have such a big company like the Premier League support this kind of thing means that girls have the opportunity to go and play their football."
Well done to all teams who took part!