Community News
1
Ferna and Clichy join CITC Roadshow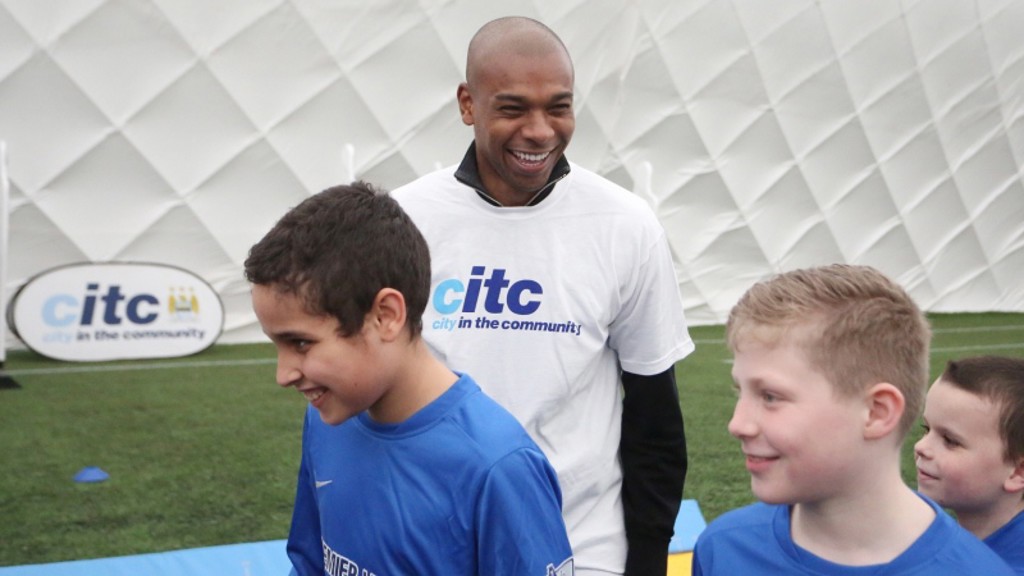 ferna
Fernandinho and Gael Clichy have launched City in the Community's new 'Roadshow' project.
The international duo joined a local primary school to demonstrate why they're the team to beat this season.
Co-funded by the Club's main sponsor, Etihad Airways, the Roadshow will see the Club's foundation travel in and around Manchester visiting schools, community groups and public areas with their new game frame equipment.
This one of a kind piece of equipment includes passing drills, measures accuracy and power of shooting, dribbling and fitness challenges all using innovative electronic equipment.
Fernandinho and Clichy captained a team of young people from Briscoe Lane Primary School along with skipper Stephanie Houghton and midfielder Betsy Hassett from Manchester City Women's Football Club.
They then battled it out against one another to be crowned City in the Community Roadshow champions.
Brazilian ace Fernandinho had stiff competition from his teammates but enjoyed being part of the day.
"The work that City in the Community are doing in Manchester is really inspiring," said Ferna.
"It's been a privilege to help launch one of their new projects today and we've all had a lot of fun trying out this game frame. I hope it encourages even more young people to get involved in football."
Head of City in the Community Mike Green, said: "Today's launch is very special as it also helps mark our City in the Community Week. Each day, we're highlighting all the brilliant activities and work we do in and around Manchester all year round.
"It's great that players from both teams have come along to officially launch this three-year project as we look to take football to as many young people throughout Manchester."
Clive Wratten, Etihad Airways' UK General Manager, added: "Etihad Airways is delighted to support the City in the Community Roadshow in Manchester, another exciting collaboration between the club and airline which builds on successful projects we've worked on in Abu Dhabi, Mumbai, Delhi and the Seychelles.
"It will be fantastic to work closely with so many youngsters in Manchester and we are sure it will be fun for all."
The Roadshow will form part of the School Sport programme which is funded by the Premier League and aims to provide structured sessions linked to the national curriculum for PE. City in the Community coaches will also work alongside school teachers to deliver high-quality curriculum time coaching aimed at improving physical literacy and fundamental movement skills.
High fives were in abundance as Team Fernandinho and Hassett became the eventual winners with the highest cumulative points score.
To find out more about City in the Community Week, visit mcfc.co.uk/community.