Community News
1
In the spotlight: CITC Apprentices
conrad
During National Apprentice Week, Manchester City Football Club will celebrate all the fantastic work undertaken by our apprentices in all areas of the Club.
From our community apprentices at the Club's Foundation to construction apprentices working on the Club's new landmark facility, we'll be featuring their stories to give you an a behind-the-scenes look at life as an apprentice.
City in the Community are committed to supporting the development of young people and as a result, launched an Apprenticeship Scheme in October 2010. The Foundation have since taken six apprentices under its wings and have a dedicated Skills and Enterprise team who are working hard to provide accessible educational programmes and qualification opportunities to local residents.
One of the Club's success stories is Conrad Prendergast from Denton who is now an established member of the CITC family as the Enterprise Co-ordinator. The former MCFC mascot is an avid City supporter and first got involved in CITC's soccer schools as a participant 10 years ago. The 22-year-old's enthusiasm shone though and he started volunteering, before working his way up to become fully-fledged Community Apprentice.
"The apprenticeship was absolutely brilliant for me," he declared. "It enabled me to get hands-on experience while learning about all aspects of the Foundation. I absolutely loved it."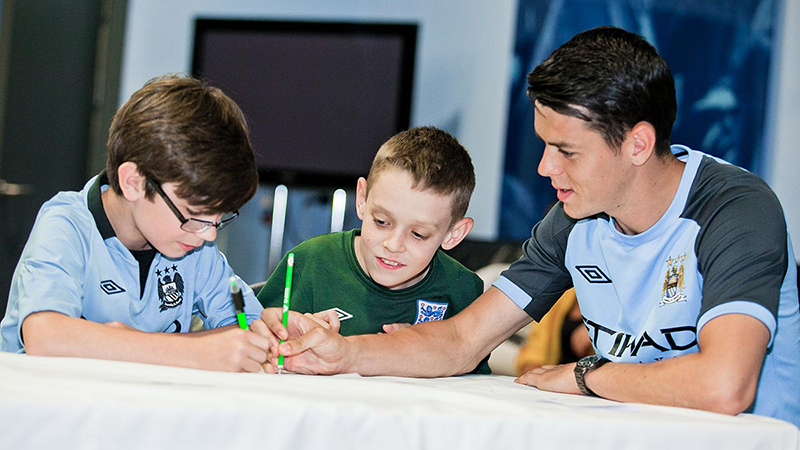 Joshua Black, 19, from Stockport has since stepped into Conrad's shoes. Josh first came into contact with CITC in 2010 when two coaches paid a visit to his college and delivered an education course to all pupils studying football excellence.
Soon after, an inspired Josh started volunteering at CITC twice a week. After clocking up an impressive 150 volunteering hours, he turned his passion into a part-time role, helping out with the CITC soccer schools.
Josh has now moved onto his role as 'Community Apprentice' where he works across the Health and Activity and Football and Multi-Sport programmes run by the Foundation. He has gained a number of qualifications during his apprenticeship and hopes to become a co-ordinator, like his predecessor.
For more information on City in the Community's Skills and Enterprise programmes, check out mcfc.co.uk/community