Community News
1
Nasri swaps the pitch for the classroom.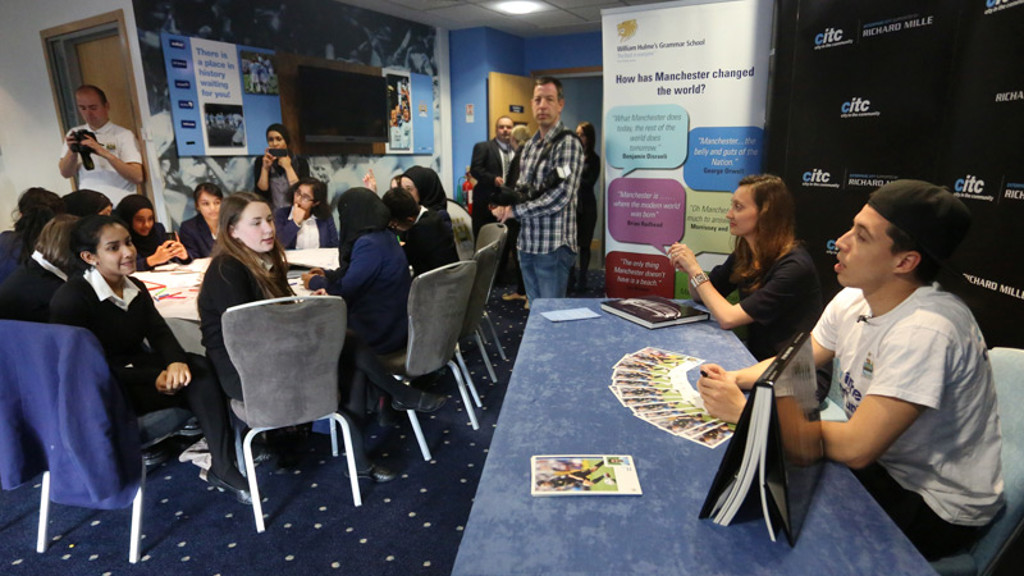 citc enterprise
City and France star Samir Nasri has helped re-launch City in the Community's 'Enterprise City' project.
The midfielder joined a local secondary school at the Etihad Stadium to demonstrate his entrepreneurial flair. The project has been revived thanks to a generous donation from the Club's official timekeeper, Richard Mille.
Nasri swapped the pitch for the classroom as he oversaw 13-15 year olds from William Hulmes Grammar School, Manchester design their own bespoke watch. The group then presented a business plan to their peers in a programme designed to improve enterprise, communication and problem solving skills among the young people.
The donation comes courtesy of the sale of a bespoke timepiece by Richard Mille. Bought by anonymous benefactor, all proceeds have gone into continuing the 10-week programme. It'll now be rolled out to 13-15 year olds in secondary schools across Manchester and provide students with an insight into Manchester City Football Club as a business. All the young people receive a qualification at the end of the course.
Nasri was impressed that the programme will give youngsters a foundation of skills to take forward in everyday life: "The work that City in the Community are doing in Manchester is really inspiring! It's been a privilege to help launch one of their new programmes today and we've all had a lot of fun designing our own watches" he declared.
Mike Green, Head of City in the Community, was delighted by the contribution: "Richard Mille's commitment to the Club's community work is exemplary and their support for this programme will make a lasting difference to secondary schools across Manchester." He added "As a direct result of this donation, we hope that 1,000 young people will gain a qualification in Business & Enterprise in the next 18 months, which is just phenomenal."
Peter Harrison, CEO Richard Mille Europe Middle East and Africa said: "We're thrilled to be able to make a contribution to a terrific programme that improves the lives of local children in the Manchester area and helps them achieve their goals and exceed their potential. City in the Community is such an important initiative and we're proud to be able to play a part in its development."
The bespoke watch sold was a show-stopper and as an adaptation of the original RM 010, it came in a white gold case with a white rubber strap, and finished with a white gold buckle. Flange and crown rubber recall Manchester City's official team colours, blue and white, which are also featured in the club's official team crest displayed at 12 o'clock. Finishing off this special piece is an engraving of the Club's logo on the back sapphire glass and 'MCFC-piece unique' on the caseback.
The piece also boasts an automatic winding skeleton movement with integrated rotor and variable geometry, a distinctive feature found in Richard Mille timepieces. This watch is strictly assembled and finished by hand: the curve shaped casing alone requires 202 distinct machining operations.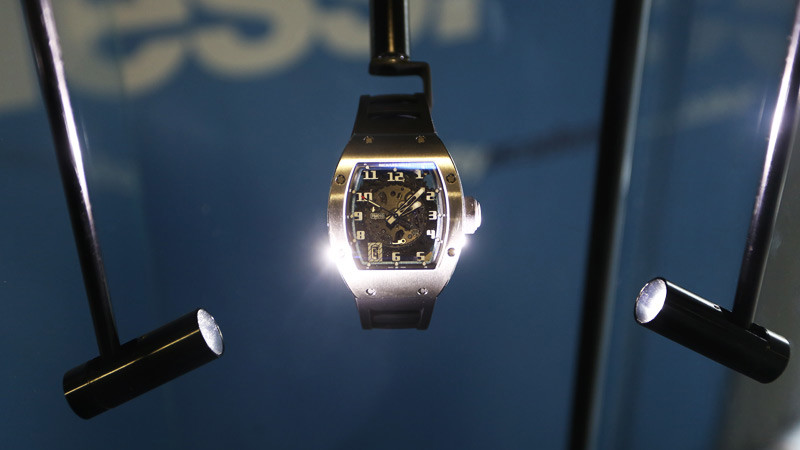 The watch was handed over by H.E. Khaldoon Al Mubarak, Chairman of Manchester City Football Club, on behalf of Richard Mille and symbolically received by Al Manara International Jewellery's Vice-President, Mr. Hasan Ismaik during the opening ceremony of the Richard Mille Boutique in Abu Dhabi in December.
For more information on Manchester City's community work, visit mcfc.co.uk/community.