Community News
1
CITC receive Employer of the Term award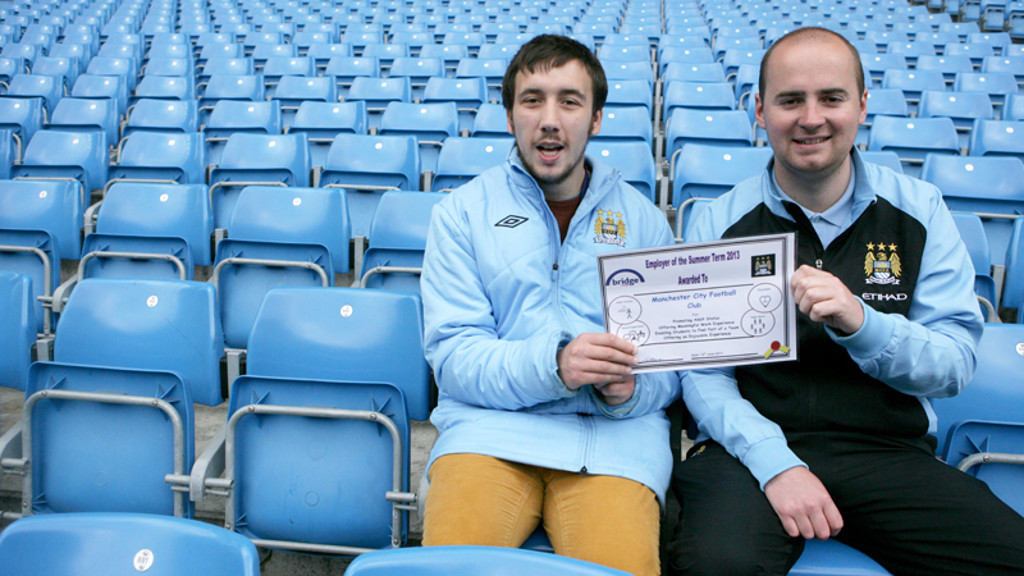 citc employer of the term
City in the Community were awarded the first "Employer of the Term" award by the Together Trust and Bridge College.
Bridge College in Openshaw is a college specifically designed for students with learning difficulties and autism. The College provides unique opportunities for inclusion and independence for students aged 16 to 25 and learners have the opportunity to take part in some form of work experience as part of their curriculum. Ben Goring works with a team at the Etihad Stadium every week and has been involved with City in the Community since October 2012.
Joanne Wilson, Work Experience Tutor at Bridge College explains, "Since his work placement began, Ben's confidence, vocational skills and experience of the working world has really grown. Ben has autism, which means he can find it difficult to cope with change, so getting the placement at the Etihad Stadium – somewhere so familiar to him – has been a real benefit, and he has made remarkable progress in a short space of time. MCFC have been so supportive, we can't thank them enough for giving Ben this great opportunity."
Mike Green, Head of CITC adds; 'City in the Community are delighted to receive this award in recognition of our ongoing partnership with Bridge College. This further demonstrates the Club's commitment to support young people in local areas throughout Manchester creating some unique learning opportunities. Ben is a massive City fan and has been involved in the 'One City' disability programme for 10 years. He is well known and liked throughout CITC for his attitude, commitment and enthusiasm at our disability football sessions and it is great that we can support Ben in partnership with the college. Hopefully, Ben is the first of many participants that can benefit from the work City in the Community are delivering.'
In the autumn term to come, Bridge College and the Together Trust will continue to work with City in the Community to provide more opportunities for young people. Ben has also been accepted into college and will begin a course in independent living after his work experience at CITC in September.
For more information about the One City disability programme, how to gain work experience or to take part in disability football please contact Daniel Landstrom, Disability Manager at City in The Community, Daniel.landstrom@mcfc.co.uk.