Manchester City and PUMA are proud to unveil our latest dedicated esports product range today which includes a new limited edition esports shirt and leisure hoody.
The shirt will be worn by City's professional esports players who represent Manchester City in FIFA and Fortnite.
This includes the likes of Shaun 'Shellzz' Springette and Ryan Pessoa who will wear the shirt at various FIFA competitions this season as well as Konrad Skram, Aidan "Threats" Mong and Jacob "Hellfire" Hansen who will wear it whilst competing in Fortnite.
The unique design of the shirt is inspired by the characteristics of television screens, particularly the visual distortion seen when the connection or signal fails.
Labelled as 'Electronic Camo' or 'eCAMO', the representation of the distortion through a striking colour scheme is the main feature of the esports shirt this season.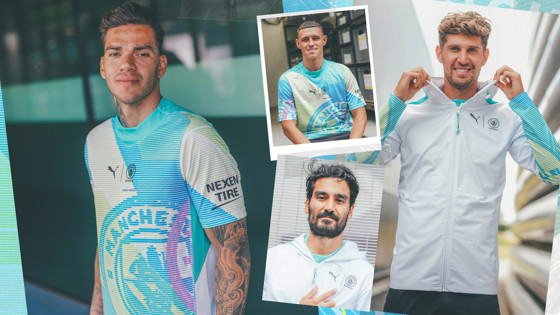 Manchester City has one of the most developed esports platforms in world football, with players in the UK, US, China and Denmark and a strategic partnership with world leading esports & entertainment organisation FaZe Clan.
Leading technology organisation and Official Club Partner 'e&' (formerly known as Etisalat Group) will become the brand-new front of shirt partner for the esports shirt, having featured on the sleeve in previous years.
Nexen Tire will also continue their longstanding support of Man City Esports and will feature on the left sleeve.
City FIFA player Shellzz commented: "I love the new esports shirt - it's a cool design and is sure to stand out at competitions.
"I've been with the club since they launched the first esports shirt with PUMA in 2019 and each year they're more creative. Having our own unique esports range makes all us players feel part of a wider team which is an amazing feeling.
"It's also great to see the return of the hoody which was a fantastic addition last year. City and PUMA always make sure we're on the top of our game."
The limited-edition range is available exclusively online at mancity.com/shop.
Following the first ever metaverse launch of the 2022/23 Third kit on Roblox, Man City and PUMA are thrilled to announce they will be featuring the brand-new esports shirt on the digital platform.
It will soon be available for a limited time only in Blue Moon on Roblox with full details on how fans can access the shirt to be announced shortly.