And the winner of the PUMA design-a-kit contest is…
Nine-year-old Lucy Beth from Dublin!
In May, PUMA offered fans the chance to design their own City shirt - and we had more than 1,000 entries from across the world. 
We somehow narrowed that down to four outstanding finalist, but it was Dublin-born Lucy Beth who was chosen as the overall winner!
To celebrate, PUMA produced a limited edition for the shirt with her name on the back, and Sergio Aguero was on hand to reveal the winner. 
Lucy received her own shirt, as well as one signed by Sergio and a framed image of her entry.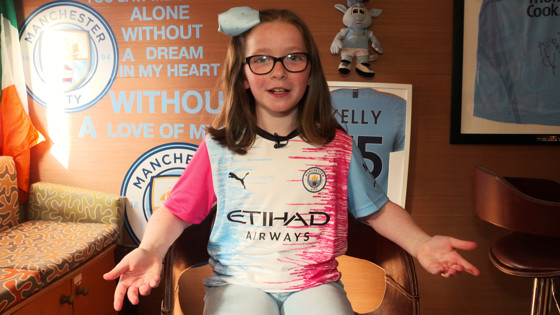 "I decided to enter because I love drawing and colouring, and since it was Man City, I thought it was perfect for me," Lucy said.
"I chose this design because they already have stripes and I just thought I'd rather have a pop of colour, so I did the stripes on the inside.
"I had to keep the blue because Man City is blue, so I added the pink for a pop of colour.
"I am so excited to win this competition and I still can't believe Sergio Aguero made a video just for me.
"PUMA did a great job. I can't believe my design became a real jersey – it's a thumbs up from me!"
Lucy is from a family of City fans, who travel over from Ireland for games at the Etihad and have a City-themed 'cave' in their house decorated in memorabilia. 
Her first ever game at the Etihad was our win over Watford in January 2018, and she was back for our New Year's Day win over Everton in 2020. 
Well done, Lucy Beth!
And you can own one - the Club has 20 of these shirts to give away!