Everything you need to know about FaZe Clan ahead of the launch of our combined merchandise pop-up event in Manchester.
The FaZe Clan x Manchester City event marks the first international FaZe Clan pop-up, feature new co-branded merchandise products such as hoodies, shorts and snapback hats as well as special appearances from FaZe Clan talent.
FaZe will also be in attendance at the Etihad Stadium to cheer on Pep Guardiola's men in our huge Premier League encounter with Liverpool on Sunday 10 April.
Before the event, get to know a little more about the group below...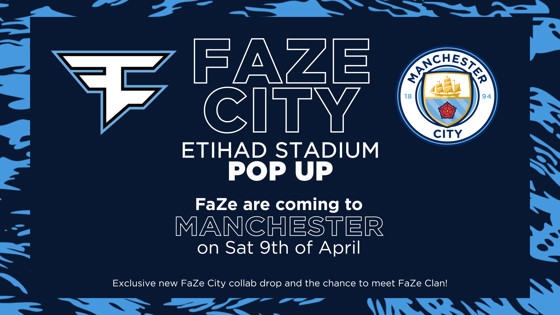 Formation
FaZe Clan is a lifestyle and media platform rooted in gaming and youth culture.
Original known as FaZe Sniping, the group formed in 2010 during the early Call of Duty era when sniping and particularly trick shots were very popular.
FaZe's 'Illcams' series (killcams on COD) was a huge success and is still considered one of the best and original Call of Duty content series on YouTube.
Members
Thomas 'Temperrr' Oliviera and Richard 'Banks' Bengston are currently the longest serving members, with Temperrr the group's CEO before handing over the reigns to its current incumbent, Lee Trink.
FaZe Clan now have over 80 members. These ranges from professional players through to high profile content creators such as Snoop Dogg, Lil Yachty, Kyler Murray (NFL), Ben Simmons (NBA), Bronny (Lebron James' son) and more.
Swagg, JSmooth and Santana will all be in attendance at the upcoming pop-up event. 
A full list of FaZe Clan members can be found here.
Activities
FaZe have two arms to their business: content and Esports.
In Esports, FaZe Clan have been hugely successful on numerous titles with their most successful teams competing in online games such as Counter Strike: Global Offensive (CS:GO) and Call of Duty (COD).
From a content perspective, FaZe Clan boast over 20 million followers across Twitter, Instagram and YouTube, each creator will also have their own YouTube channel + socials.
A number of the creators have several million subscribers on YouTube.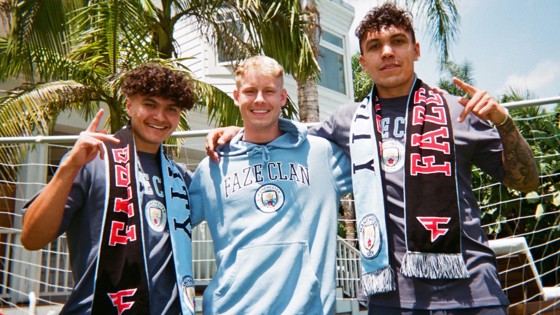 City partnership
FaZe Clan and Manchester City had initially collaborated back in 2017 during the Club's tour of the United States, but that partnership was formalised two years later in September 2019.
Temperrr, Blaze, Nate Hill and Cizzorz were all in attendance at the Etihad Stadium a few weeks later in City's Premier League match with Wolves, watching on from the stands with Kevin De Bruyne.
De Bruyne and fellow City stars Kyle Walker and Aymeric Laporte have also previously played Fortnite with FaZe Clan members Nate Hill, Replays and Bizzle.