Leading from the front as always, Manchester City's very own Erling Haaland has earnt his rightful place in football history as the first EA SPORTS FC™ cover star. Well done Erling!
EA SPORTS FC™ 24 is a new era of football. The best players from the biggest clubs, leagues, and competitions around the globe playing together in the most authentic football experience ever created.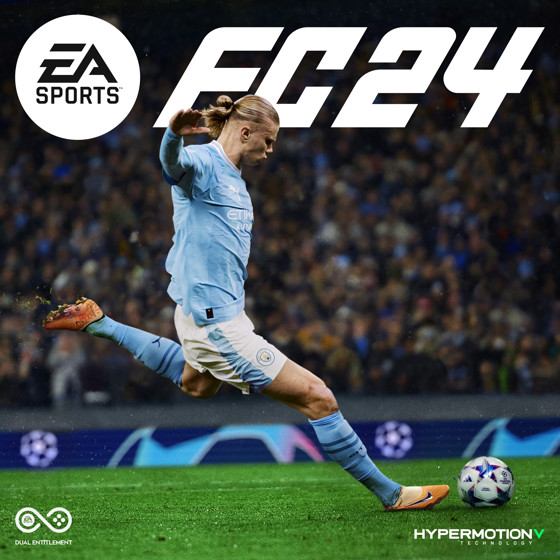 Feel closer to the game with three cutting-edge technologies powering unparalleled realism in every match—HyperMotionV*, PlayStyles optimised by Opta, and an enhanced Frostbite™ Engine.
HyperMotionV captures the game as it's truly played, using volumetric data from more than 180 professional men's and women's football matches, including Manchester City, to ensure player movements in-game accurately reflect real-world action on the pitch.
PlayStyles dimensionalise athletes, making them more authentic by interpreting real-world player data from Opta and other sources into signature abilities which heighten the realism and individuality of each City player.
The enhanced Frostbite™ Engine delivers The World's Game in lifelike detail, bringing a new level of immersion to each match.
Develop your own club legends in Ultimate Team™ by improving your players with the brand new Ultimate Team™ Evolutions, and welcome women's footballers to the pitch alongside men as you craft your dream XI.
Get closer to the touchline with new modern management features in Manager Career or pave your own path to glory in Player Career. Plus, connect and compete with more friends than ever through cross-play** in both Clubs and VOLTA FOOTBALL™.
EA SPORTS FC™ 24 marks the beginning of the future of football built on innovation and authenticity with more than 19,000 fully licensed players, 700 teams, and 30 leagues including the UEFA Men's and Women's Champions League, Premier League and the Barclays Women's Super League.
Pre-order EA SPORTS FC™ 24 now!
*HyperMotionV technology only available on PlayStation 5, Xbox Series X|S, and PC versions.
**Cross-play enabled in certain modes on same-generation platforms. Cross-play not available on Switch version.