City's 2021/22 away kit was the Club's first kit dedicated to a social cause: safe water.
Over the twelve months since launch, Cityzens Giving has joined forces with PUMA and Xylem to positively impact the health of young people around the globe, delivering vital water education and clean water access to over 9,300 young people in four cities.
Produced with a special Dope Dye manufacturing process to reduce water consumption, the kit paid tribute to this unique partnership and marked the launch of a new global programme, blending football-based education on water, clean water access for communities in need and mass awareness of a global issue.
The projects in São Paulo, Mumbai, Buenos Aires and Manchester each benefitted from funding, bespoke training for young people in leadership and community football, special PUMA kit and equipment drops, and the expertise of leading global water technology company, Xylem, to deliver innovative solutions to local water challenges.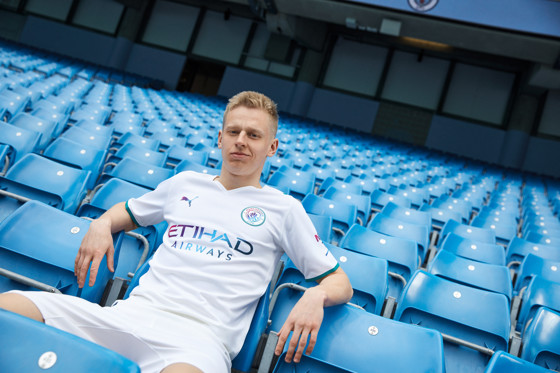 Xylem volunteers and local NGO partners joined up with young leaders and City fans to install a clean water tower in a Mumbai school, providing a safe and long-term supply of fresh drinking water for 1,800 people per day, a rainwater capture and re-use system in São Paulo to provide more consistent access to clean water year-round, and handwashing stations next to a community football pitch in Buenos Aires to encourage safe handwashing practices.
In addition, a replica clean water tower at the Etihad Stadium in Manchester inspires and educates local fans and school groups on water challenges and solutions.
During the season, young leaders in each city delivered weekly football and water education sessions, culminating in a series of community footballs festivals, with surprise project visits from Manchester City players and the Premier League Trophy.
PUMA ambassador Fernandinho visited Sao Paulo, Pablo Zabaleta returned to his home city, Buenos Aires, and Shaun Wright-Phillips visited young leaders in Mumbai.
In total, 80 young leaders were engaged in four cities, over 9,300 young people have received vital water education and clean water access, and 96% of participants surveyed have reported a greater sense of well-being.
The programme has delivered real and measured life change for young people, improving health, well-being and awareness of the importance of clean water and water conservation. 
Varsha, a Young Leader in Mumbai said: "Since we installed this tower, the children who couldn't attend school due to diseases or dirty water have improved a lot. Their attendances have also increased, and they are getting healthier."
Nara from Buenos Aires added: "As a Young Leader, the most important thing is the bond that we create with the children.
"We are teaching them the importance of hygiene and washing their hands, through football. Being with Pablo Zabaleta was a great moment!
"He is a role model for us and learning from his experiences fills us with confidence and the motivation to keep going."